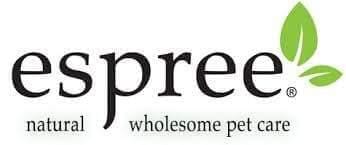 Featured

Best selling

Alphabetically, A-Z

Alphabetically, Z-A

Price, low to high

Price, high to low

Date, old to new

Date, new to old
Espree
Welcome to Espree, your one-stop shop for all your pet grooming needs! With our vast selection of shampoo and conditioners, along with other essential dog grooming supplies, you can easily make sure your beloved pet looks great from head to paw. Formulated by professional groomers, the products in our collection are designed to provide superior care for your pet's coat from salon quality shampoos to deep conditioning solutions.

Looking for a vibrant looking pup? Our special blend of color-enhancing ingredients will leave coats sparkling with life and vitality. We also offer natural shampoos containing oatmeal and chamomile extracts that are perfect for keeping delicate fur soft and nourished.
What sets us apart from other pet grooming products is our consideration for coat textures and health; Espree's products are perfect for any coat type, with properties that are tailored to treat even the most delicate fur. As pet owners ourselves, we know that the last thing you want is to be using artificial fragrances, which can be hazardous for pets. Fortunately for you, Espree products are made using only natural scents. You'll also find that our unique blend of moisturizers provide essential nutrients and conditioners that keep your pup's skin soft and healthy. 

We understand that it can sometimes be challenging to find the right product for your furry friend. That's why on our website you will find helpful tips from expert groomers who can guide you to the right choices. So don't hesitate - with Espree, creating an easy yet effective grooming routine has never been more satisfying!