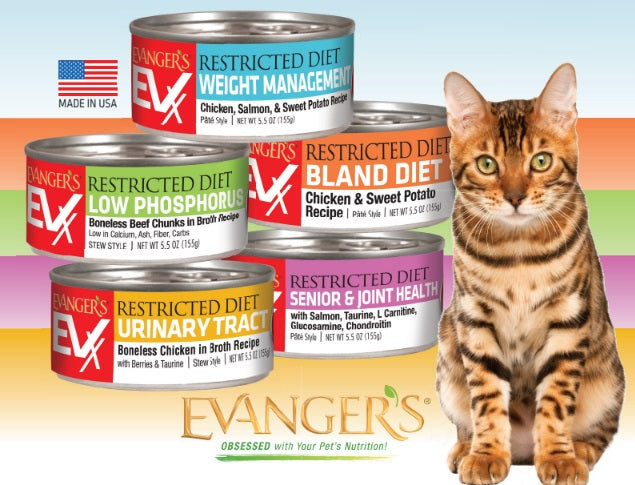 Featured

Best selling

Alphabetically, A-Z

Alphabetically, Z-A

Price, low to high

Price, high to low

Date, old to new

Date, new to old
Evanger's Cat Food
If you're looking for a wholesome and nutritious diet for your feline companion, then look no further than Evanger's Cat Food! Evanger's is carefully crafted with only the highest-quality, inspected meats to give your cat an incredible taste experience. With Evanger's canned meals, you can mix and match flavors to keep your pet from getting bored with the same thing each time. Plus, they contain natural Vitamins and minerals blended into their recipes to offer complete nutrition that's balanced for all cats regardless of age or breed. Now you can be sure that your feline family member gets nothing but the very best in quality sustenance every day. Choose Evanger's today to give your cat a feast their palate will truly love!
Evangers cat food has been a trusted brand for pet owners since 1935. It is unique in that it uses only human-grade ingredients to craft nutritious, delicious wet and dry foods for cats. Its formulas are free of corn, wheat, and soy which makes them easily digestible. The recipes also contain real meats such as chicken or beef as the first ingredient, ensuring your cat's nutrition needs are being met. Additionally, avenger offers an extensive array of flavor combinations and protein sources so you can find something that suits your cat's preferences. Many reviews praise Evanger's wet cat food for its natural ingredients, taste, and texture. Whether you're buying Evanger's canned or dry cat food for your furry friend, knowing you're providing them with quality nutrition is always a priority.
Pet owners are always on the lookout for the best quality food for their furry friends, and when it comes to cats, Evanger's is a trusted name. The company takes pride in creating meals for cats that are not only delicious but also nutritionally balanced. Food contains high-quality protein sources like real chicken, beef, and fish, as well as other essential nutrients to meet cats' dietary needs. With the brand's commitment to using only the finest ingredients, cat owners can rest easy knowing that their pets are consuming food that is free from harmful additives or preservatives. It's no wonder why Evanger's cat food is a favorite among cat lovers everywhere.
Evangers Cat Food is a great choice for pet owners looking for quality, nutritious options to feed their cats. Made with the highest-quality ingredients and sourced from only the best suppliers, avengers cat food is some of the best in the industry. All evangels wet cat food contains added vitamins, minerals, and taurine to support your kitty's nutrition too. Even better, avengers cat food reviews suggest that customers are more than happy with their purchase, giving glowing reviews that focus on taste, freshness, and value. With Evangers wet cat food you can rest assured that your furry friend is getting top-notch nutrition every meal!