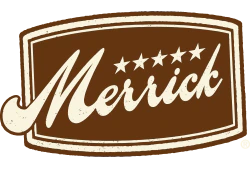 Merrick Pet food - For Dogs & Cats - Talis-us
Featured

Best selling

Alphabetically, A-Z

Alphabetically, Z-A

Price, low to high

Price, high to low

Date, old to new

Date, new to old
Merrick 
Merrick believes whole foods not only taste better, but are better for your pet, and handmade recipes are much better than scientific formulas. That's why Merrick's been making pet food in their own kitchen for more than 30 years. Produced in small batches, each recipe is closely monitored to ensure it delivers the perfect balance of nutrients guaranteed right on the label. Merrick makes food to be fuel, not filler, and their wide variety of protein-rich dry and canned foods and treats means your pet will enjoy every second of his meal.
Merrick only use high-quality meats, fresh caught fish and real fruits and vegetables. Foods like those aren't just drool-worthy, they're rich in the valuable protein and nutrients pets need. No fillers, additives, sweeteners, colors or preservatives. Nothing artificial, nothing but goodness.
Real Meats: Our recipes start with real, protein-packed high-quality USDA certified meats and fresh caught fish to support the growth of lean muscle, improved skin and coat health, and a healthy immune system
Fresh Fruits and Vegetables: We use whole apples, potatoes, baby carrots, blueberries and other real fruits and vegetables filled with the fiber, vitamins, minerals and antioxidants dogs need
The Merrick Dog Food line includes both wet and dry foods in Healthy Grains and Grain-Free varieties. You can get grain-free toppers and treats in addition to Merrick Grain-Free Dog Food in a range of tastes, textures and formulations. Merrick also makes Lil' Bites for small breeds, Merrick Limited Ingredient for sensitivities, and Full Source and Backcountry ancestral diets for canines. The Merrick Cat Food line includes Backcountry, Limited Ingredient and Purrfect Bistro formulas for felines.