Featured

Best selling

Alphabetically, A-Z

Alphabetically, Z-A

Price, low to high

Price, high to low

Date, old to new

Date, new to old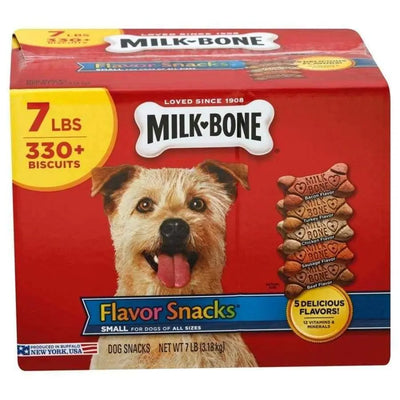 Milk-Bone 

Milk-Bone is a brand of dog treats that has been in production since 1908. It was originally created by the F.H. Bennett Biscuit Company in New York and was named for its key ingredients, milk, and bone meal.

Milk-Bone offers a wide variety of dog treats, including crunchy biscuits, soft and chewy treats, and dental chews. The brand's products are designed to provide dogs with a range of benefits, such as promoting healthy teeth and gums, supporting joint health, and providing a tasty and nutritious snack.

In addition to its regular dog treat products, Milk-Bone also offers specialized treats for dogs with specific needs, such as those with sensitive stomachs or allergies.

Milk-Bone has become a household name in the world of dog treats and is often seen as a go-to choice for dog owners looking to provide their pets with a tasty and nutritious snack.