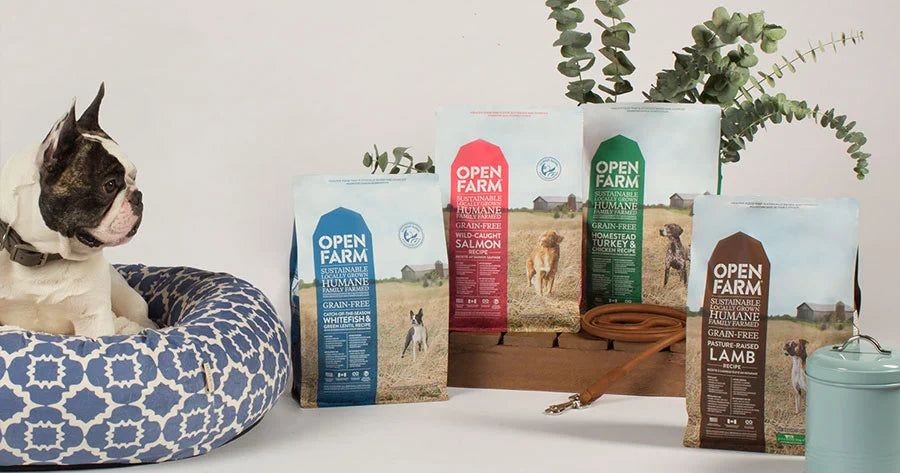 Featured

Best selling

Alphabetically, A-Z

Alphabetically, Z-A

Price, low to high

Price, high to low

Date, old to new

Date, new to old
Open Farm Cat & Dog Food Supplier
As a fur parent, one of your main concerns is making sure that your beloved furry friends eat high-quality and nutritious food. And with the increasing number of pet food recalls and controversies in recent years, it's only natural to be more vigilant about what you put in your pets' bowls.
Enter Open Farm, a pet food company that prioritizes transparency, sustainability, and animal welfare in producing its products. In this blog post, we'll take a closer look at Open Farm Dog Food and why it's a great choice for your canine family members. Open Farm's dog food products come in six different varieties: dry food, wet food, freeze-dried raw food, puppy food, senior food, and treats. All of their foods are made with high-quality ingredients that meet strict ethical and environmental standards. For instance, their meats are sourced from Certified Humane farms, where animals are raised without antibiotics or added hormones. Meanwhile, their fish and seafood are sustainably sourced, helping to preserve marine ecosystems.
One of Open Farm's unique products is its freeze-dried raw food, which is a great alternative for pet owners who want to feed their dogs a raw diet without going through the hassle and risks of preparing it themselves. The freeze-drying process preserves the nutrients and freshness of the ingredients, resulting in a healthy and flavorful meal for your pets.
In terms of recalls and safety, Open Farm has a solid record. The company has had only one recall since it was founded in 2013, and it was voluntarily done due to potential salmonella contamination in a small batch of their food. Open Farm also has rigorous testing protocols and third-party certifications to ensure the quality and safety of its products.
Aside from its dog food line, Open Farm also offers cat food products that follow the same principles of quality, ethics, and sustainability. Their wet and dry cat food formulas are made with premium meats and organic vegetables, providing cats with the nutrition they need to thrive.
Choosing the right pet food for your furry friend can be overwhelming, but Open Farm makes it easier to make an informed choice. With their commitment to transparency, sustainability, and animal welfare, you can be sure that you're giving your pets the best quality food possible. Whether you're looking for dry food, wet food, freeze-dried raw food, or treats, Open Farm has a variety of options that cater to different dietary needs and preferences. Start giving your pets the love and nourishment they deserve with Open Farm Dog Food.