Arcadia Heat Lamp Cage Heater Light Safety
Sku:

TARC5383S

Vendor: Arcadia
Arcadia Heat Lamp Cage Heater Light Safety 

Introducing the extraordinary Arcadia Heat Lamp Cage - your one-stop solution for ensuring both safety and style in the realm of heat lamps! Our innovative creation is designed to revolutionize the way you think about heat lamp accessories. From its impeccable craftsmanship to its striking aesthetic, this product is here to redefine the game!

Crafted with utmost precision and attention to detail, the Arcadia Heat Lamp Cage is meticulously engineered to provide the highest level of safety for your heat lamps. We understand the importance of protecting yourself and your loved ones, which is why our cage is constructed with robust materials, built to withstand even the most intense heat levels. Say goodbye to worries and hello to peace of mind!

But don't think for a second that safety comes at the cost of style. Oh no, quite the contrary! The Arcadia Heat Lamp Cage has been meticulously designed and refined to add a touch of sophistication and elegance to any space. Its sleek and contemporary design seamlessly blends in with any existing decor, be it modern or traditional. This is not just an accessory; it's a statement piece that will elevate the ambiance of your surroundings.

Whether you're a home enthusiast looking to create a cozy and inviting atmosphere in your living room or a hospitality professional seeking to create a warm and welcoming vibe in your establishment, the Arcadia Heat Lamp Cage is your ultimate ally. It effortlessly combines functionality and fashion, allowing you to focus on basking in the cozy glow of the heat lamp, while our cage takes care of the rest.

Speaking of functionality, our cage is a breeze to install. With a user-friendly design, it can be easily assembled and securely placed around your heat lamp in a matter of minutes. No complicated manuals or tedious instructions - just simple and straightforward installation. We've taken care of the nitty-gritty, so you can sit back, relax, and let the soothing warmth of our lamp envelop you like a comforting embrace.

Now, let's talk versatility. The Arcadia Heat Lamp Cage is specifically designed to fit a wide range of heat lamps, ensuring compatibility with most models available on the market. Whether you have a freestanding heat lamp or one mounted on the wall, our cage will have you covered. It's time to bid farewell to the days of settling for accessories that limit your options. Embrace the freedom of choice with Arcadia!

So, who is our target audience, you ask? Well, the answer is simple - absolutely everyone! Whether you're a parent concerned about your child's safety, a pet lover wanting to protect your furry friend from harm, or a hospitality professional aiming to create a cozy atmosphere for your customers, the Arcadia Heat Lamp Cage is tailor-made for you! It's a product that transcends boundaries and appeals to all who prioritize safety, style, and functionality.

Take the leap into a world where safety meets sophistication. Get your hands on the Arcadia Heat Lamp Cage today and experience heat lamp accessory heaven.

The 'Arcadia Heat Light' is an easy to use, stylish product that fits simply over a lamp and lamp holder (Arcadia Reptile Ceramic Lamp Holder Pro).
Heater Safety Cage helping to reduce the risk of burns, heater safety cages are an essential item for all heating lamps when used inside of a vivarium.
The Heater Safety Cage has a sprung door on the bottom to allow and easy change of lamp and has flat eyelets for fixing screws. The Heater Safety Cage also has a gateway for the power cable keeping everything neat and tidy.
Remember, always use a suitable Thermostatic control system with heating system and a
Heater Safety Cage to protect both animal and keeper.

 

High quality, durable metal Arcadia Heat Light.
Heater Safety Cage easy access with sprung door.
Deeper and wider than most Heater Safety Cages.
Ceramic lamp safe.
Flush mount with cable ingress.

Heater Safety Cage Height 8.66 inches / Width 4.72 inches

 

To control the heat projector you can use the Dome Light HEAT CONTROL Dimmer.

The Arcadia Reptile Ceramic Heat emitter produces and projects high-quality deep 'Infra-Red' heat far into an enclosure. 
View full details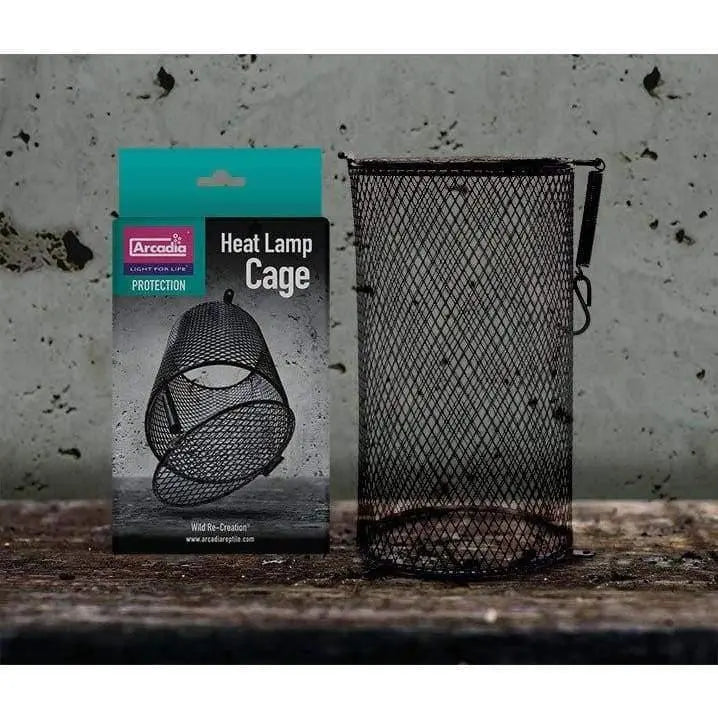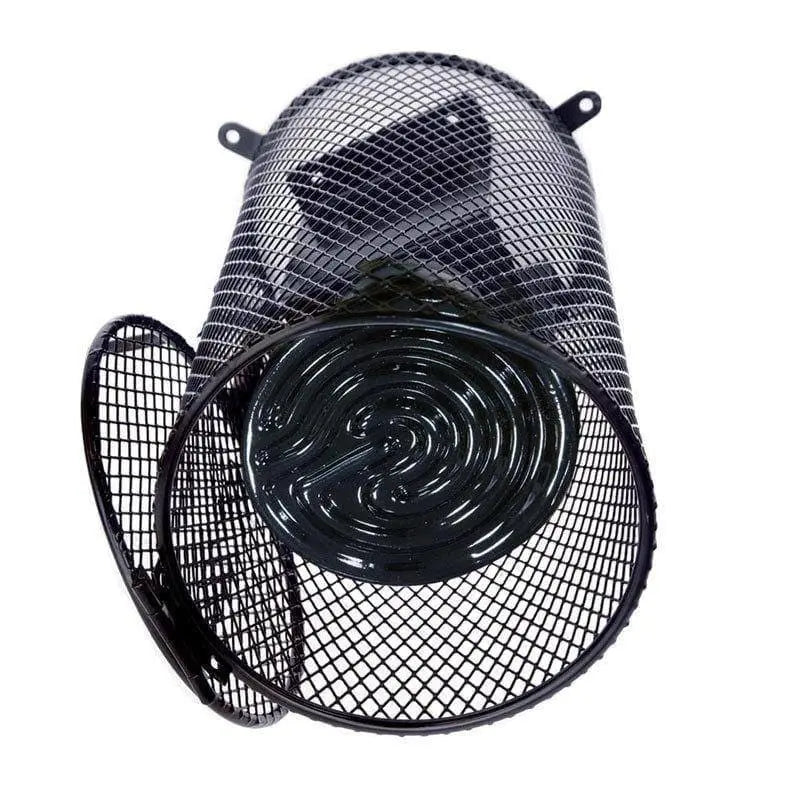 Arcadia Heat Lamp Cage Heater Light Safety