Rep Cal Adult Iguana Food
Sku:

TREP2313S

Vendor: Rep-Cal
Rep-Cal Adult Iguana Food is formulated to ensure proper growth and health by providing complete and balanced nutrition. It is a veterinarian recommended food containing natural plant and fruit ingredients iguanas love and provides the 100% complete daily nutrition they need. Rep-Cal Adult Iguana Food has been tested successfully for adult iguanas (more than 12in long from nose to base of tail) by reptile veterinarians. It is fortified with optimal levels of vitamins and minerals like calcium and vitamin D3 so no other food or supplements are required. Also, Rep-Cal Iguana Foods contain papaya, mango and strawberries creating an excellent tasting food.

Feeding Directions:


Feed every morning: Offer slightly more food than your iguana can eat in a day, and allow your pet access to its food for the entire daylight period. Be sure to empty and clean the dish at the end of each day.
Be aware of intimidation by cage-mates: If more than one iguana shares a cage, provide a separate feeding and drinking station for each animal.
Have water available at all times: Your iguana should have access at all times to a shallow bowl containing fresh, clean water.
Pellets can be moistened in water or fruit juice before feeding: Some iguanas find that the softer soaked pellets are easier to pick up.
View full details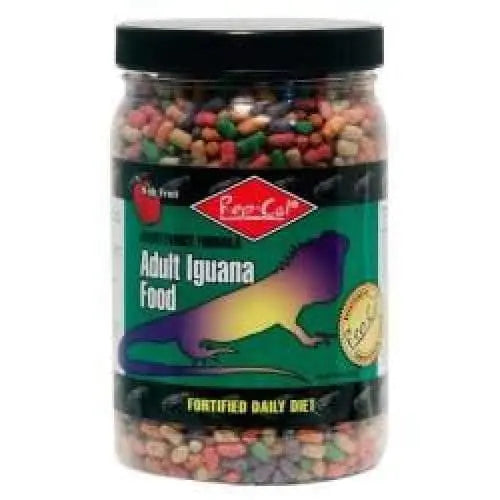 Rep Cal Adult Iguana Food