Reptile Deep Heat Projector Provides Essential Infra-Red A & Infra-Red B - (Arcadia)
Sku:

TARC1954S

Vendor: Arcadia
Arcadia Reptile Deep Heat Projector

The Arcadia Reptile Deep Heat Projector is the premier choice for controlling your reptile pet's temperature and providing your pet with a safe and healthy environment. With its high-quality handmade heating element and dimming thermostat, you can maintain a steady temperature, both day and night. Unlike other heat sources, the Arcadia Deep Heat Projector ensures that all of the provided heat isn't wasted, allowing you to not only control temperatures with precision but also providing you more control of your thermogradient than ever before! The infrared backside provides great heat while being completely safe for your animals, giving you further peace of mind. Not to mention the precise temperature control capability make it a perfect choice for households who want an accurate control of their pets' environment since each one is custom-tailored to give you exactly what you want in terms of warmth and safety. So if you're looking for a reliable solution to keep your beloved reptiles safe and sound throughout the seasons, go with the Arcadia Reptile Deep Heat Projector – rest assured it won't let you down!

The Arcadia Reptile Deep Heat Projector provides essential heat deep into the body in a safe and natural way, without the risk of overheating associated with tight beam heat lamps. Infrared-A and Infrared-B deep heat projector provide heat deep within the muscle tissues, warming the animal throughout just as it would in the wild. 

Reptile Deep Heat Projector:

Deep Heat Projector Wide-casting 50 & 80-watt energy
Reptile Deep Heat Projector Provide Natural Infra-Red-A and Infrared-Red-B wavelengths
Penetrating rays heat deep into the muscle
Deep Heat Projector Produces no visual light

Deep Heat Projector will not disrupt nighttime cycles

Reptile Deep Heat Projector Outfitted with internal reflector 

 

To control the heat projector you can use the Dome Light HEAT CONTROL Dimmer.

The 'Arcadia Heat Light' is an easy to use, stylish product that fits simply over a lamp.
View full details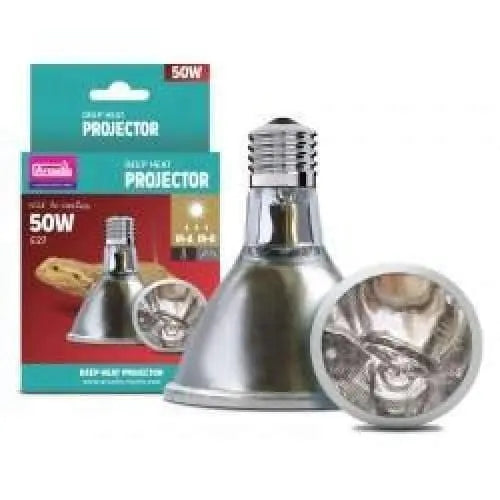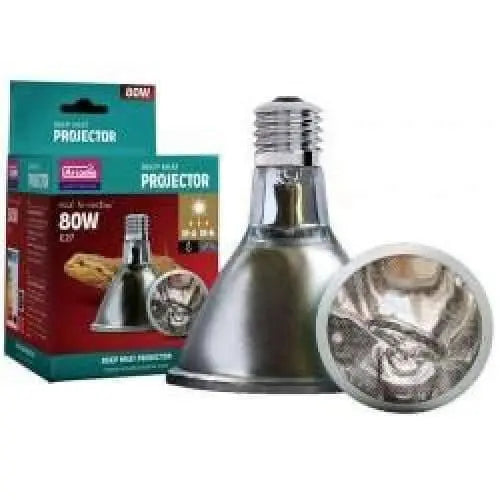 Reptile Deep Heat Projector Provides Essential Infra-Red A & Infra-Red B - (Arcadia)