Talis LED Terrarium Light Bar Full Spectrum Aquarium Lighting for Fish, Reptiles, Plants
Sku:

TTAL2279S

Vendor: Talis Us Reptile
LED Terrarium Light

SUPER HIGH 141 LUMENS PER WATT OUTPUT: Talis full spectrum aquarium LED lights are the most advanced fish tank lights available on the market. They use upgraded high outputs LEDs with a 141 lumens per watt output! The LEDs are also triple packed for more light intensity making them ideal for reptiles and plants too.

MIMICS NATURAL SUNLIGHT: Our LED light bars provide a 6200 K° 'fake sunlight' color temperature while still providing a high PAR and CRI. The 120° wide beam encourages active basking in arid reptile species and lush growth for plants. They are just what you need for your terrarium or aquarium to give your pets a true sense of being home.

5 SIZES TO CHOOSE FROM: These full spectrum grow lightbars are available in 5 lengths and wattages ranging from a 12ft 18W LED light bar, to a 4ft 80W light bar. They are ideal for different lighting needs and can fit standard terrariums or be suspended for aquariums.

UP TO 7 UNITS CAN BE DAISY CHAINED: When you need more light output than a single bar can provide, our LED light fixtures allow you to link up to 7 of them and still use only one plug. They are convenient for larger projects, and the plug n play nature makes them easy to mount and connect.

EXCEPTIONAL QUALITY AND CONSTRUCTION: Our terrarium LED light bars provide exceptional quality in a bold, sleek, and powerful package. The LEDs are super long-lasting with a 50,000 hrs lifetime. The aluminum body helps with heat dissipation ensuring the lights never overheat. Add to Cart now and get value for your money.

A bright new dawn in terrarium lighting - The Talis LED Terrarium Light Bar! Perfect for any discerning aquarium, fish tank, or reptile enclosure, this stunning mix of red and blue LED diodes offers superior illumination whilst saving energy. Forget about the fuss of fitting kits and link cables; this light bar is easy to fit and can be configured to suit a variety of environments. From providing a perfect photosynthetic active response curve for plants to grow, to increasing both visible light levels by up to 50%, the limitless brilliance of the Talis is only held back by your creativity! Despite its sleek bold powerful exterior, the real magic lies beneath with its latest high output LEDs offering outstanding PAR limiting- ensuring that your beloved aquatic wildlife remains safe in their world. Plus, with its Arcadia Reptile Jungle Dawn LED setting, you're sure to get the best possible atmosphere in any given environment! Illuminate your terrarium like never before; change the way that you see life with the extraordinary Talis Led Terrarium Light Bar!

LED LIGHT BAR FIXTURES FOR PLANTS AND ANIMALS

Full Spectrum Light Mimics Natural Sunlight

Looking for a high-output LED light bar for use in your terrarium or vivarium? Talis LED light bars are just what you need. They feature upgraded LEDs that produce up to 141 lumens per watt. The light bars provide the perfect color temperature (6200 K°) that is ideal for growing plants or encouraging active basking in arid species. The bars provide a 120° wide beam that makes it just perfect for your needs. What is more, the LED lights can be daisy-chained for a higher output while still using only one plug.

Talis' LED Aquarium Light is the perfect solution for providing your fish tank, reptile terrarium, or plant garden with full spectrum lighting. This high-quality aquarium light bar features 12 powerful LEDs that emit a variety of colors to create a naturalistic environment for your aquatic or terrestrial

Quality you are going to love

We designed these terrarium LED lights to deliver exceptional value for your money. They feature long-lasting LED lights with a 50,000hr rating and an aluminum body that provides excellent heat dissipation. The lights are available in 5 sizes and wattages making them perfect for lighting terrariums or aquariums of any size.

Here are reasons our full spectrum led light bars are the best:

Available in 5 sizes for a perfect fit onto aquariums of all sizes
High-quality LEDs provide up to 50,000hrs of lighting
Up to 7 lights can be linked together for higher light output
Simple design makes mounting and connecting them easy
Ultra-bright LEDs provide perfect lighting for plant growth or active animal basking

Get a Talis LED terrarium light fixture today and give aquarium plants and pet animals realistic fake sunlight.
View full details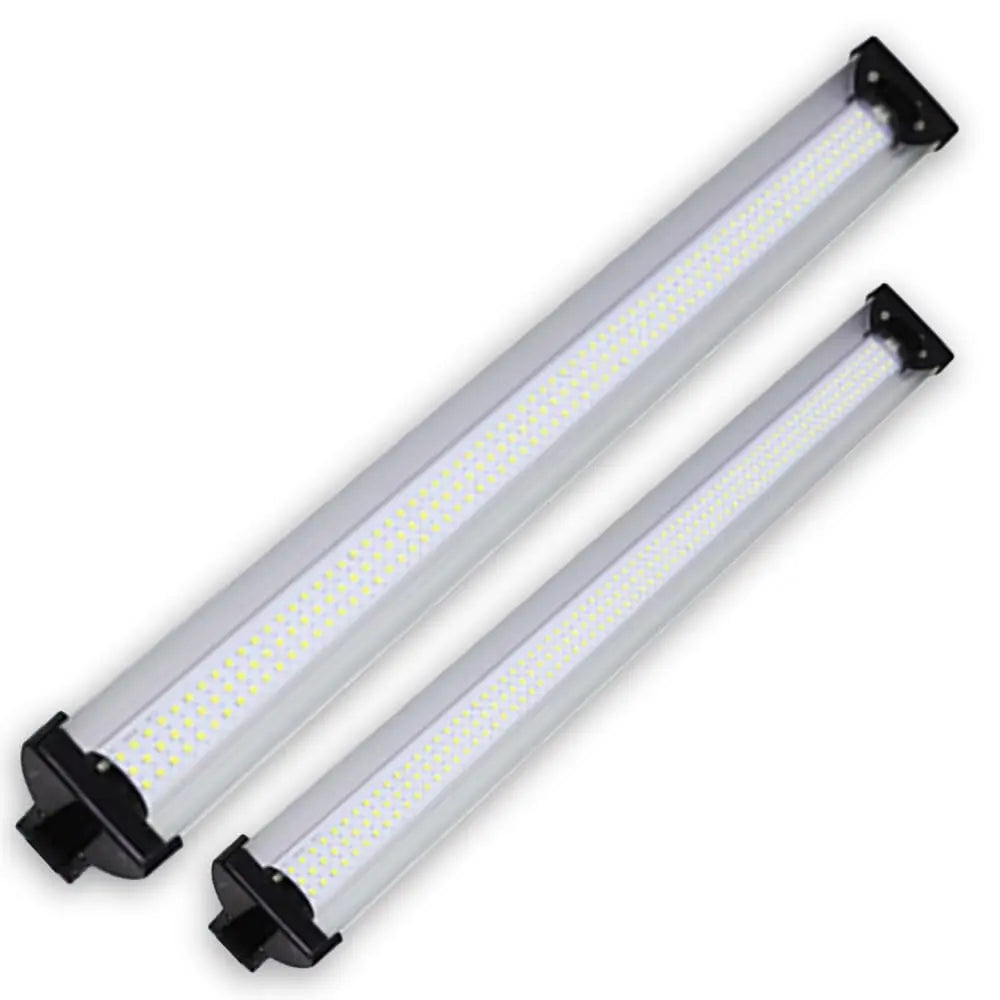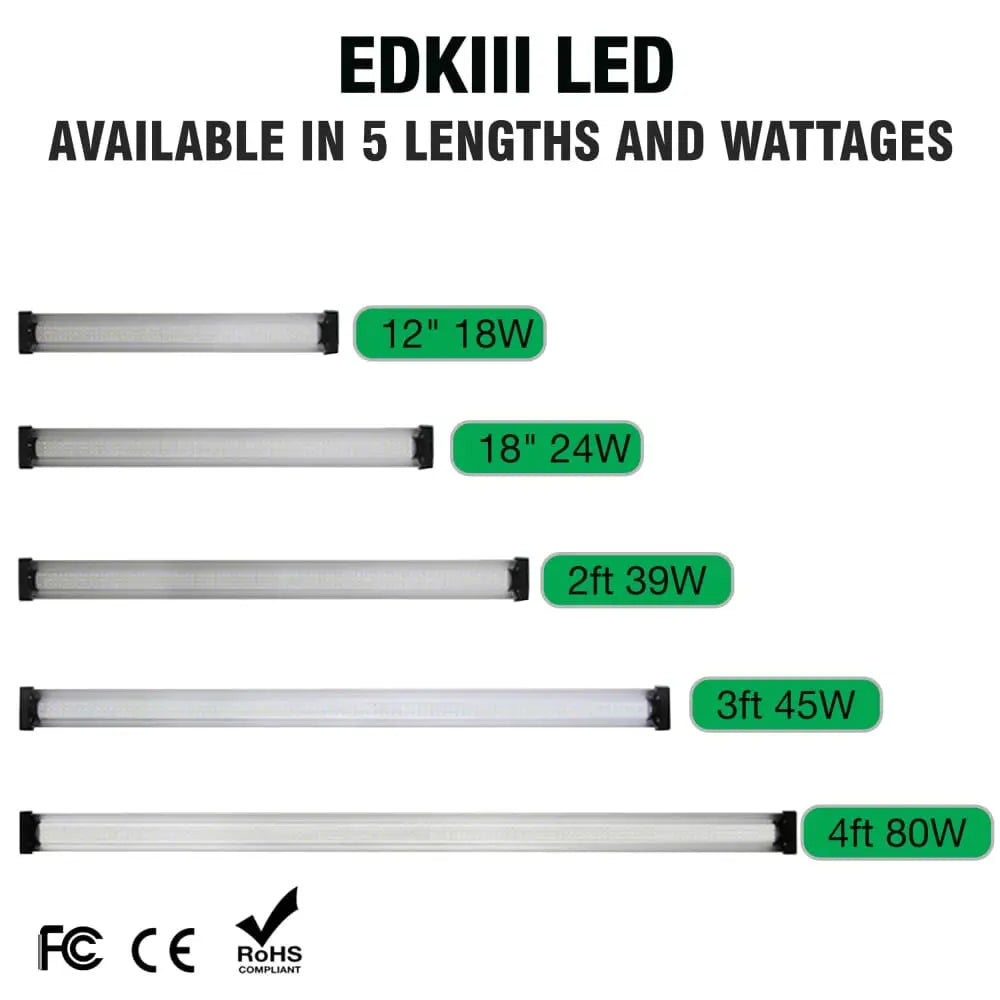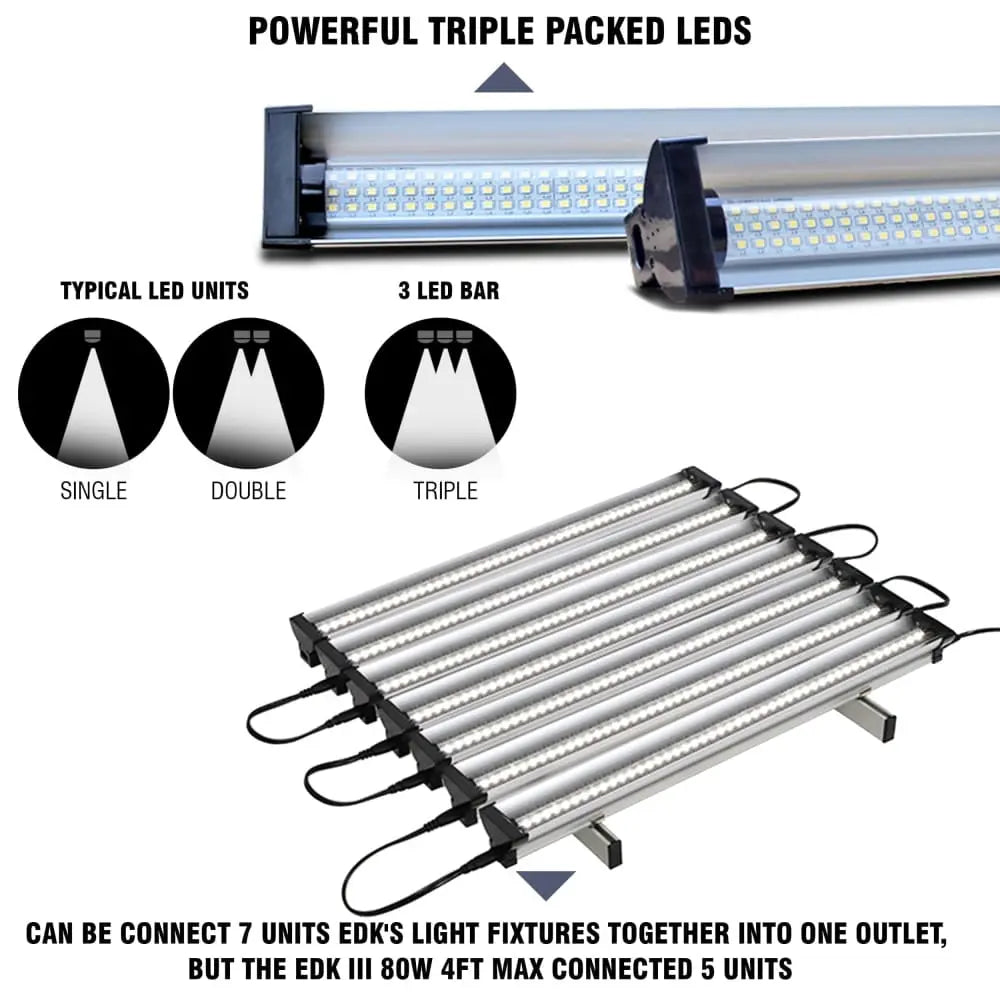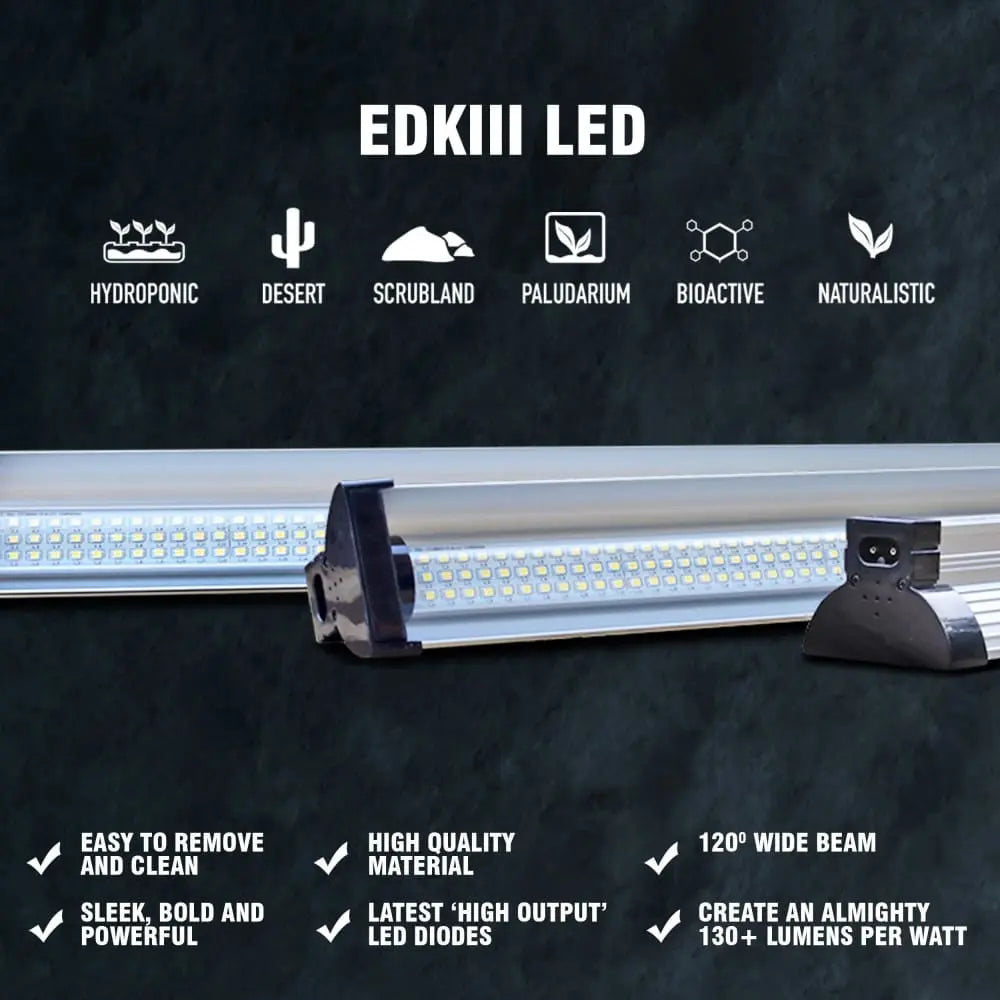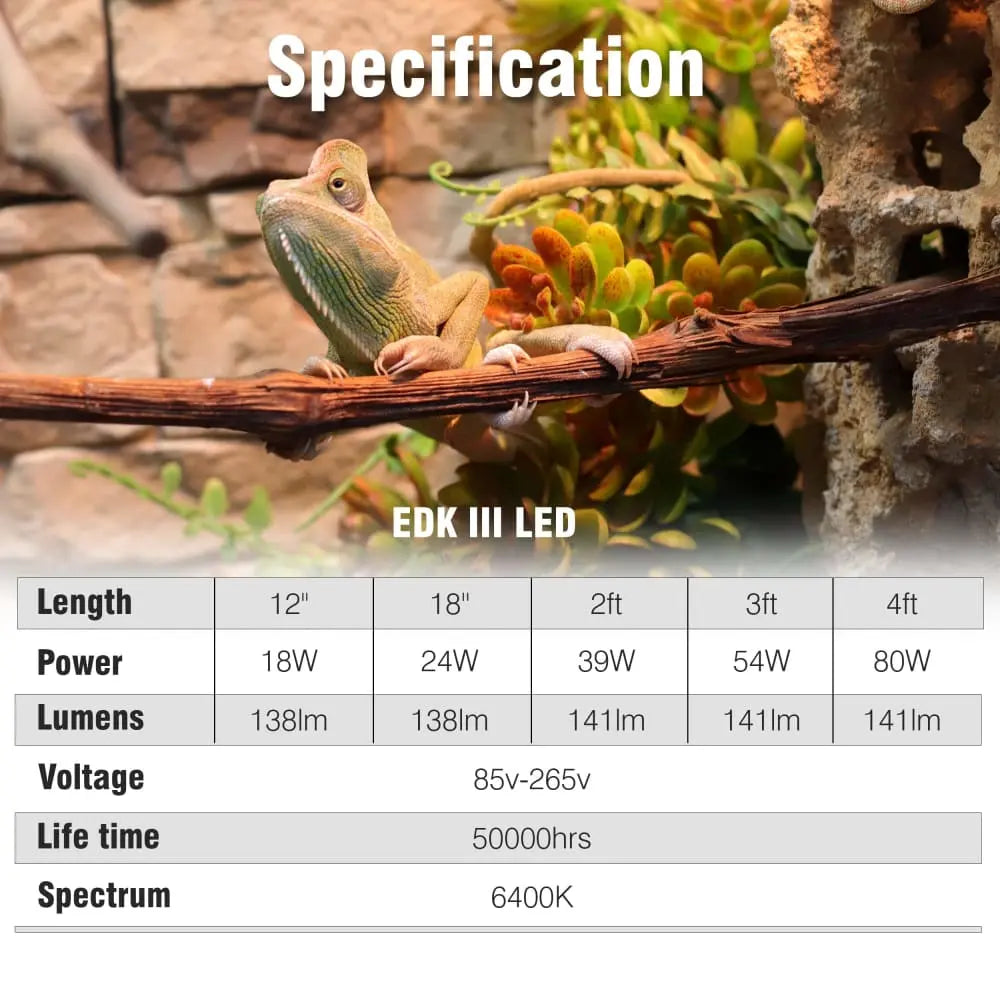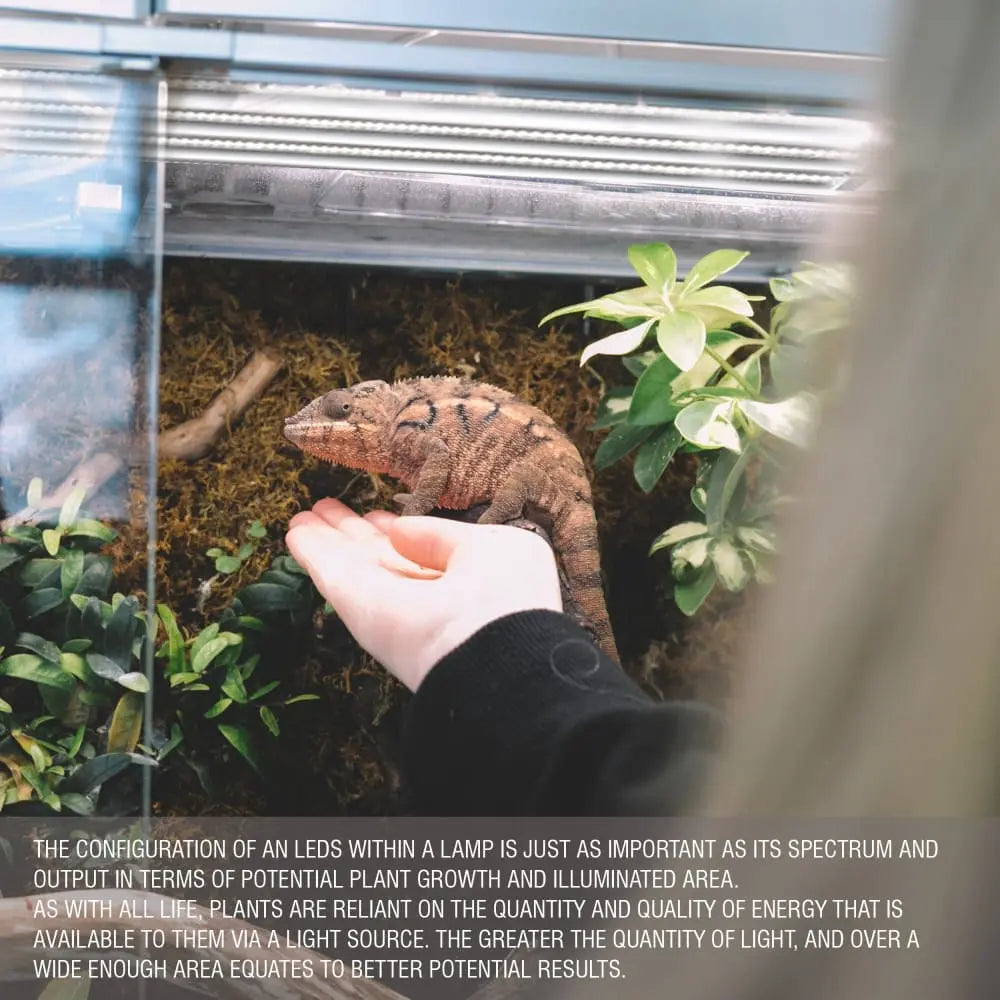 Talis LED Terrarium Light Bar Full Spectrum Aquarium Lighting for Fish, Reptiles, Plants