The Real Meat Company Air-Dried Chicken with Mussels Dog Food 2lb
Sku:

TREA10735S

Vendor: Real Meat®
Introducing The Real Meat Company Air-Dried Chicken with Mussels Dog Food, the ultimate feast for your furry friend! Sourced from real, free-range chickens raised right here in the USA, this dog food is a testament to our commitment to providing only the finest ingredients for your beloved pet. We believe that dogs deserve nourishment that is not only delicious, but also nutritious, and that's why we've gone the extra mile to create a product that promotes good health in every bite.

One of the key highlights of our Air-Dried Chicken with Mussels Dog Food is its high Omega 3 content. We all know how important Omega 3 fatty acids are for our furry friends, as they promote healthy skin and a shiny coat. So, by choosing our dog food, you're not just giving your pooch a tasty meal, but also an added boost of essential nutrients that will make them the envy of the dog park!

But that's not all - we've taken the goodness one step further by incorporating freeze-dried mussels and organic coconut oil into our recipe. Why, you ask? Well, these incredible ingredients offer fantastic joint support for your four-legged companion. We know how vital it is for our dogs to stay active and agile, and that's why we've included these natural wonders in our formula. Say goodbye to joint discomfort and hello to playful days filled with endless fetch!

At The Real Meat Company, we understand that every dog is unique, which is why we've created a product that caters to their individual needs. We believe in the power of real ingredients, which is why our dog food is made using only the finest quality meats and superfoods. No fillers, no artificial additives - just pure, wholesome goodness.

Our Air-Dried Chicken with Mussels Dog Food is perfect for dogs of all ages and breeds. Whether you have a bouncy pup or a wise old soul, our recipe is designed to provide them with the nourishment they need to thrive. So, whether they're wagging their tail in the midst of puppyhood or reminiscing about their glory days, they can indulge in a meal that supports their overall well-being.

So, join us in celebrating the joy of having a happy, healthy dog with The Real Meat Company Air-Dried Chicken with Mussels Dog Food. Give your loyal companion the gift of a nutritious, delicious feast that will keep their tail wagging and their paws bouncing. Trust us, your four-legged friend will thank you for it!
View full details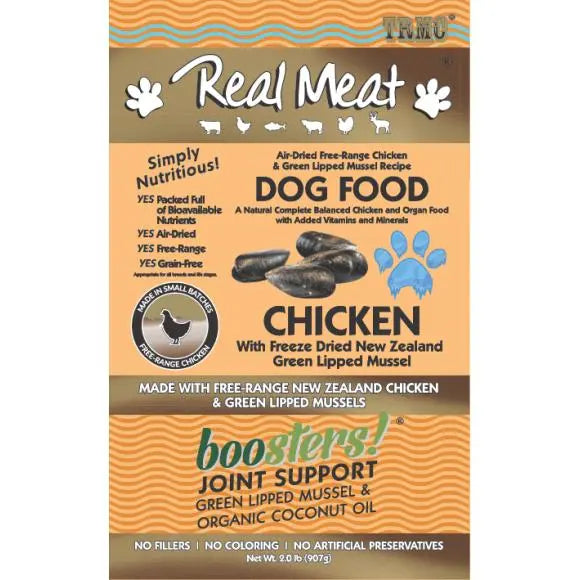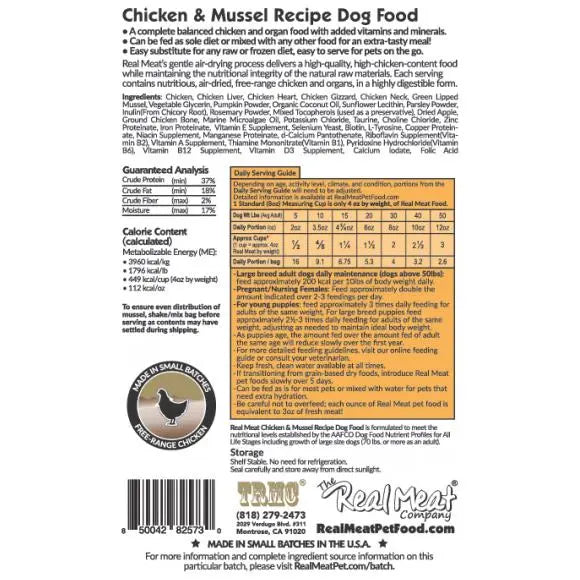 The Real Meat Company Air-Dried Chicken with Mussels Dog Food 2lb