The Real Meat Company Air-Dried Venison with Mussels Dog Food 2lb
Sku:

TREA10742S

Vendor: Real Meat®
Introducing The Real Meat Company Air-Dried Venison with Mussels Dog Food, a culinary masterpiece designed to satisfy even the most discerning four-legged palates. Crafted with love and care, this exceptional dog food combines the finest ingredients nature has to offer, delivering a delectable and nourishing meal that will leave your furry friend begging for more.

Our Real Meat Air-Dried Free-Range New Zealand Venison Dog Food is the epitome of quality and freshness. Sourced from the rolling hills and pristine pastures of New Zealand, our venison is carefully selected to ensure it meets our rigorous standards. Packed with lean protein and rich in flavor, this venison is a truly tantalizing delight for your furry companion.

But we haven't stopped there! We've taken it a step further by infusing our delectable venison with the incredible benefits of freeze-dried Green Lipped Mussel. These little ocean treasures are a true powerhouse, packed with vital nutrients and boasting an impressive array of Omega 3 fatty acids. Not only does Omega 3 promote a shiny coat and healthy skin, but it also supports your dog's cardiovascular health, ensuring a happy and active life.

In addition to the freeze-dried mussels, our Air-Dried Venison with Mussels Dog Food features the invaluable addition of organic coconut oil. This superfood not only enhances the flavor profile, but it also provides exceptional joint support for your furry friend. Whether your pup is a sprightly youngster or a wise old sage, this carefully selected blend of ingredients nurtures and protects their joints, promoting agility and overall well-being.

Our commitment to quality and sustainability is unwavering, and this extends to our production process. We take great pride in air-drying our venison, protecting and preserving all the natural goodness found within. By forgoing conventional cooking methods, we are able to retain more of the vital nutrients, vitamins, and minerals that your beloved canine craves.

Designed with your furry friend's optimal health in mind, The Real Meat Company Air-Dried Venison with Mussels Dog Food is free from artificial flavors, colors, and preservatives. We believe in feeding your dog the way nature intended, and that means no unnecessary additives or fillers. You can rest easy knowing that every serving is as pure and wholesome as possible.

We can't wait for your four-legged family member to experience the joy and satisfaction that comes with indulging in our Air-Dried Venison with Mussels Dog Food. Let them savor every mouthwatering bite and relish in the love and care we've poured into creating this extraordinary meal. Unleash the power of natural nutrition and watch your pup thrive like never before!

Target Audience:
Our target audience for The Real Meat Company Air-Dried Venison with Mussels Dog Food is pet owners who prioritize their dog's overall health and well-being. They are looking for high-quality, natural ingredients that provide excellent nutritional value and support joint health. These pet owners are willing to invest in premium products that offer their furry family members a delicious and fulfilling meal experience.
View full details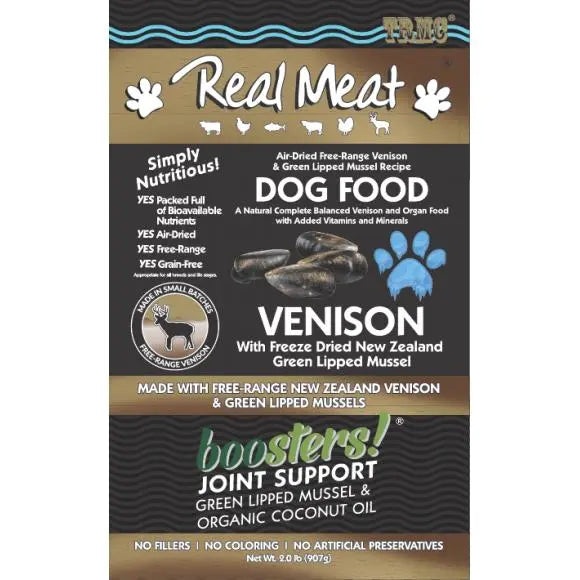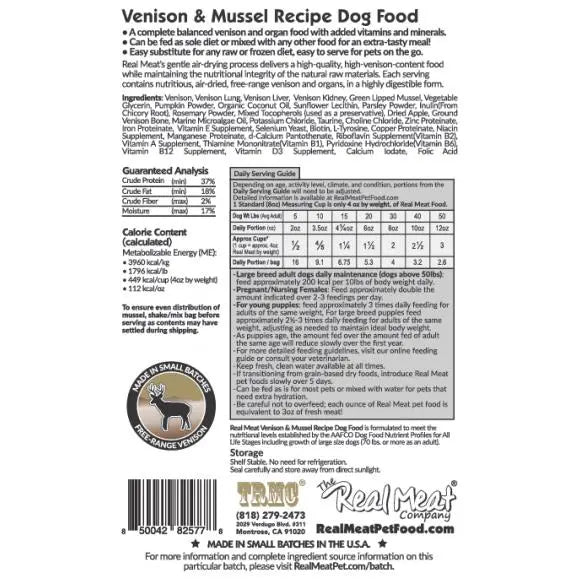 The Real Meat Company Air-Dried Venison with Mussels Dog Food 2lb