Arcadia Mercury Vapor D3 Bulb 240 Volt
Sku:

TARC5390S

Vendor: Arcadia
Arcadia Mercury Vapor Bulb

BRAND NEW Arcadia mercury vapor bulb 100 Watt,  230v to the US and Canada! UV A&B, Heat, and Light all in one BULB! ** IMPORTANT ** * Works with step-up converter 200w or more! Arcadia mercury vapor bulb is the same 240v Bulbs they use in Europe! Not some cheapie Asian 110v version made for the US market. PLEASE NOTE: These Arcadia mercury vapor bulbs MUST BE USED WITH A Step-UP CONVERTER to work in the US and Canada. 110v to 230v. YES! Arcadia mercury vapor bulb WILL fit in all standard Dome Fixtures with a porcelain E27 socket. And YES! You can use this Arcadia mercury vapor bulb with your own step-up converter of 200 Watts or more... . if you just happen to have one handy. ;) Or... Just get our convenient kit that COMES WITH A *Heavy Duty* 110v - 230v converter at a Fantastic LOW price. Many brands of converters were tested to pick the BEST ONE to make up these kits. This Arcadia mercury vapor bulb 100 Watt puts out plenty of UV and Heat for small to mid-size set-ups. The optimum basking distance for Desert Reptiles is approx. 12" - 14" inches. For Forest species, we recommend a distance of 14" to 16" inches. Please visit the Arcadia website to learn more about these Fantastic Arcadia mercury vapor bulbs: http://www.arcadia-reptile.com/d3-uv-basking-lamp/

WARNINGS: Here are some IMPORTANT RULES TO REMEMBER WHEN USING MERCURY VAPOR BULBS:

1. Always maintain proper bulb distance from the reptile(s).
2. Provide ALTERNATE basking and/or warm spots in the environment so the animals will not be forced to stay under the UV light to keep warm longer than they want to.
3. Always provide shelter and shade from UV lights.
4. Use a timer.
5. Use in CONJUNCTION with another full-spectrum fluorescent (linear or CFL) lighting to properly illuminate the animal's whole environment.
6. If your budget will allow Arcadia mercury vapor bulb, purchase and use a Solarmeter to measure UV output regularly. 

Our Arcadia mercury vapor bulb Guarantee:

These are some of the FINEST Arcadia Mercury Vapor Bulb For Reptiles on the worldwide market!

We inspect each of these bulbs prior to shipment and they are guaranteed to work when you set them up correctly with the proper 110v to 220/240v converter.

 
View full details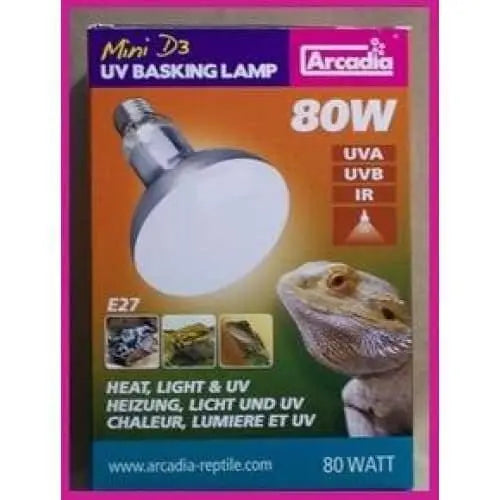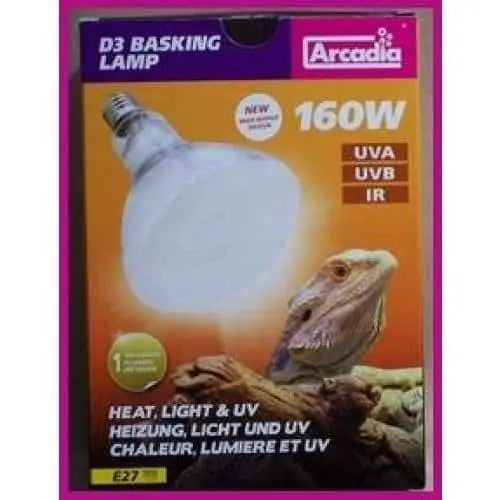 Arcadia Mercury Vapor D3 Bulb 240 Volt