Charmy Pet Salmon & Duck Harmony Recipe - Boost with Ginseng Freeze Dried Raw Dog Food
Sku:

TCHA10158S

Vendor: Charmy Pet
Introducing Charmy Pet Salmon & Duck Harmony Recipe - Boost with Ginseng Freeze Dried Raw Dog Food, where the flavors of the East and the West harmoniously collide to create a culinary masterpiece for your beloved furry companion.

Your dog deserves only the best, which is why our carefully crafted recipe is designed to provide them with a nourishing blend of 90% Salmon, Duck, Duck Necks, and Duck Liver, all combined with 10% of the finest fruits, vegetables, and Eastern-Super Herbs. We believe that a healthy dog is a happy dog, and this exceptional combination of ingredients ensures that your four-legged friend receives the vital nutrients they need to live a long, joy-filled life by your side.

But what sets our Salmon & Duck Harmony Recipe apart from the rest? Well, we have formulated this delectable freeze-dried raw dog food to be a neutral-energy food, specifically tailored to suit all adult dogs. We understand the importance of maintaining a balanced hot-and-cold energy in your dog's body, and our innovative recipe helps to achieve just that. By ensuring your pet's energy is in perfect harmony, we help support their overall health and vitality, allowing them to thrive and conquer every day with enthusiasm.

Now, let's talk about the magic ingredient in our Salmon & Duck Harmony Recipe - Ginseng. Known as a powerful Eastern-Super Herb, Ginseng works behind the scenes to enhance your dog's overall well-being. It boosts their immune system, improves circulation, and increases their stamina. Just like a superhero disguised as a tiny root, Ginseng empowers your furry friend to face any challenge that comes their way, be it a long hike, an energetic play session, or simply snuggling up by your side.

At Charmy Pet, we believe that your dog deserves to experience the perfect balance between Eastern wisdom and the delectable flavors of the West. Our Salmon & Duck Harmony Recipe is not just a meal, but a holistic experience that satisfies your dog's palate while nourishing their body and soul.

So, whether your loyal companion is a Siberian Husky, a Poodle, or a Golden Retriever, don't deprive them of the ultimate dining experience. Treat them to Charmy Pet Salmon & Duck Harmony Recipe - Boost with Ginseng Freeze Dried Raw Dog Food and watch as they wag their tail in excitement, their eyes sparkling with gratitude.

Because when it comes to your pet's health and happiness, why settle for anything less than gourmet perfection? Choose Charmy Pet - Where East Meets West, and redefine meal times for your furry friend.
View full details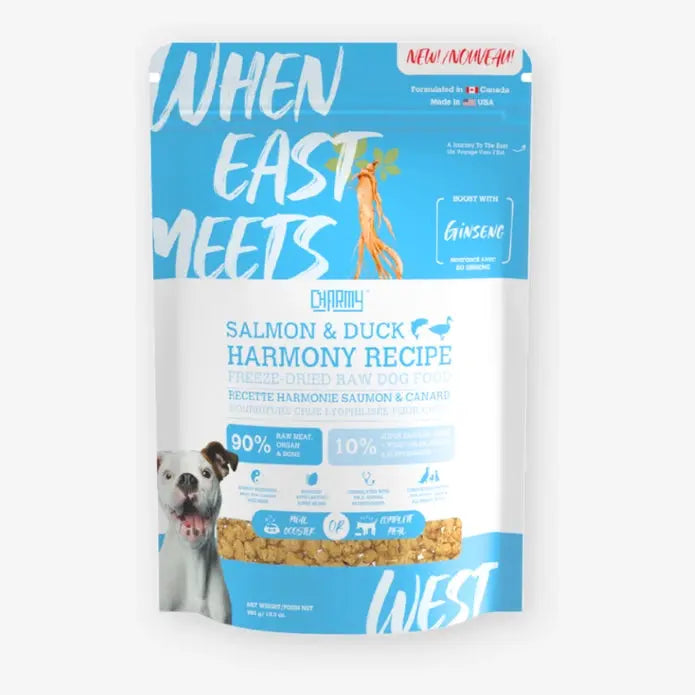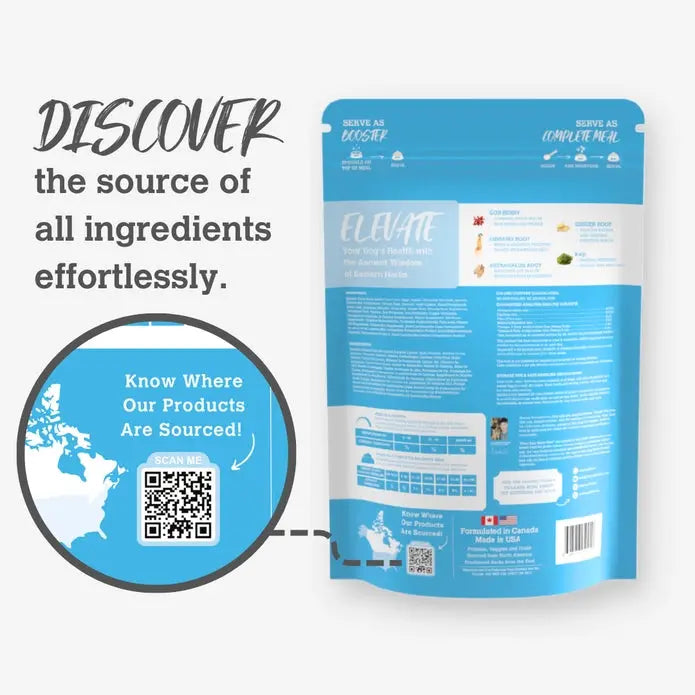 Charmy Pet Salmon & Duck Harmony Recipe - Boost with Ginseng Freeze Dried Raw Dog Food