Repashy Redrum Carotenoid Gel Food Supplement
Sku:

TREP1407S

Vendor: Repashy
Carotenoid Gel Food Supplement

Help to boost red color in your koi and goldfish. RedRum is a  Carotenoid Gel Supplement foroccasional direct feeding, or adding to other Repashy Gel formulas to enhance the diet of Fish (up to 10% of feed).

INFORMATION: Contains a "broad spectrum" of Carotenoids from whole ingredients (no synthetics). Including, but not limited to: Astaxanthin, Capsanthin, Capsorubin, Apsorubin, Beta-Carotene, Alpha Carotene, Beta Cryptoxanthin, Zeaxanthin, Neoaxanthin, Cucurbitaxanthin, Violaxanthin, Lutein, Echineone, Canthaxanthin and Lycopene.

Guaranteed Analysis: Crude Protein min. 30%, Crude Fat min. 6%, Crude Fiber max. 8%, Moisture max. 8%, Ash max. 9%.
DIRECTIONS: Mix one part powder into three parts water and stir until blended. Microwave until it starts to boil, remove and stir. Alternatively, bring water to a boil on stove, remove from heat, and stir in powder. Let container cool, or immediately pour into a storage container or mold, and let sit at room temp until firm. The finished gel can be cut into cubes, shredded, or used as a whole slab. Whatever is not used immediately should be treated as fresh food. It can be stored sealed in refrigerator for up to two weeks, and in freezer for up to six months. To adjust firmness of gel, use more or less water as desired.
View full details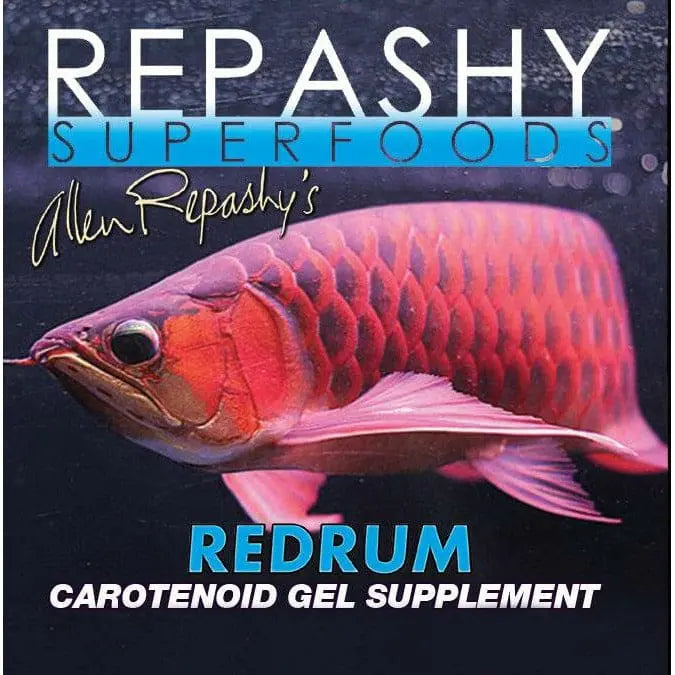 Repashy Redrum Carotenoid Gel Food Supplement