Talis 58" Large Bird Cage with Rolling Stand
Sku:

TTAL2592S

Vendor: Talis Us Bird
Bird Cage 

GREAT HOME FOR MID-SIZE BIRD SPECIES: This large bird cage with stand is just what you need when you want to give your feathered friends a nice and spacious new home. 4 wooden perches provide them a comfy place to rest making it ideal for parrots, caciques, conures, poicephalus, pionus, and other mid-sized bird species.

KEEPS YOUR BIRDS SAFE: Our rolling birdcage is fitted with heavy-duty locking feeder doors that keep your birdies safe inside the cage when playtime is over. It gives you peace of mind about their safety even when you are not around. The cage features 1 feeding cup and 1 feeding box to serve your pets with water and seeds.

STRONG AND STURDY CONSTRUCTION: Talis big bird cage is made with wrought iron to give it the strength to withstand everything that's thrown at it. It is powder-coated with lead-free and non-toxic paint to give it corrosion resistance. It measures 21" x 21" x 58" with a 45" high livable area for your birds. Ideal for use both indoors and outdoors.

DESIGNED FOR EASY CLEANING: Keeping your bird's home clean is now quite easy and stress-free. The bottom tray is removable allowing you to easily clean it when needed. The cage also has a grille on the bottom to prevent your bird pets from walking on their droppings, which ensures their cleanliness and hygiene is not compromised.

ROLLING CASTERS FOR EASY MOVING: 4 heavy-duty swiveling casters make moving this bird cage easy despite its large size. The casters can rotate 360 degrees and roll smoothly to give you optimum convenience whenever you need to move the cage. Add to Cart now and get your bird a new home that is sure to outlive them.

 

5-STAR HOME FOR YOUR BIRDS

Spacious And Durable Birdcage

If you are looking for a new home for your parrot, cockatiel, cockatoo, parakeet, finches, or other mid-size bird pet, the Talis 58" rolling bird cage is just what you need. It features a spacious 21" x 21" x 45" living area that your birds are going to love. It stands high, and features 4 wooden perches that give your feathered friends a nice habitat to feed, play, and rest. 2 locking feeder doors, 1 feeding cup, and 1 feeding box make giving your birds water and food easy and convenient for you. A wrought iron construction makes this cage sturdy and long-lasting, while the powder-coated finish gives excellent corrosion resistance making it ideal for use indoors and outdoors.

Easy To Clean And Maintain

Keeping your bird's home clean and hygienic is now easier than ever. A slide-out tray at the bottom of the cage allows you to easily take it out and clean off bird droppings with ease. A grate between the birds and the tray ensures your birds never walk on their droppings, keeping them clean and safe from dirt and diseases. If that is not all, the large birdcage features 4 caster wheels that make moving it easy. The casters roll smoothly and can easily swivel around for optimum convenience.

More reasons to love this large bird cage:

Natural wood perches provide a comfy place for birds to rest
Features a large feeding tray and a water cup for daily water needs
The non-toxic powder-coated finish makes this cage a haven for birds
A sturdy wrought iron frame makes the birdcage super strong and durable
2 lockable doors allow easy bird movement and easy feeding too
A removable tray makes cleaning the cage super easy and convenient

So why wait? Get a cage today and give your birdie buddies a comfortable and spacious new home.
View full details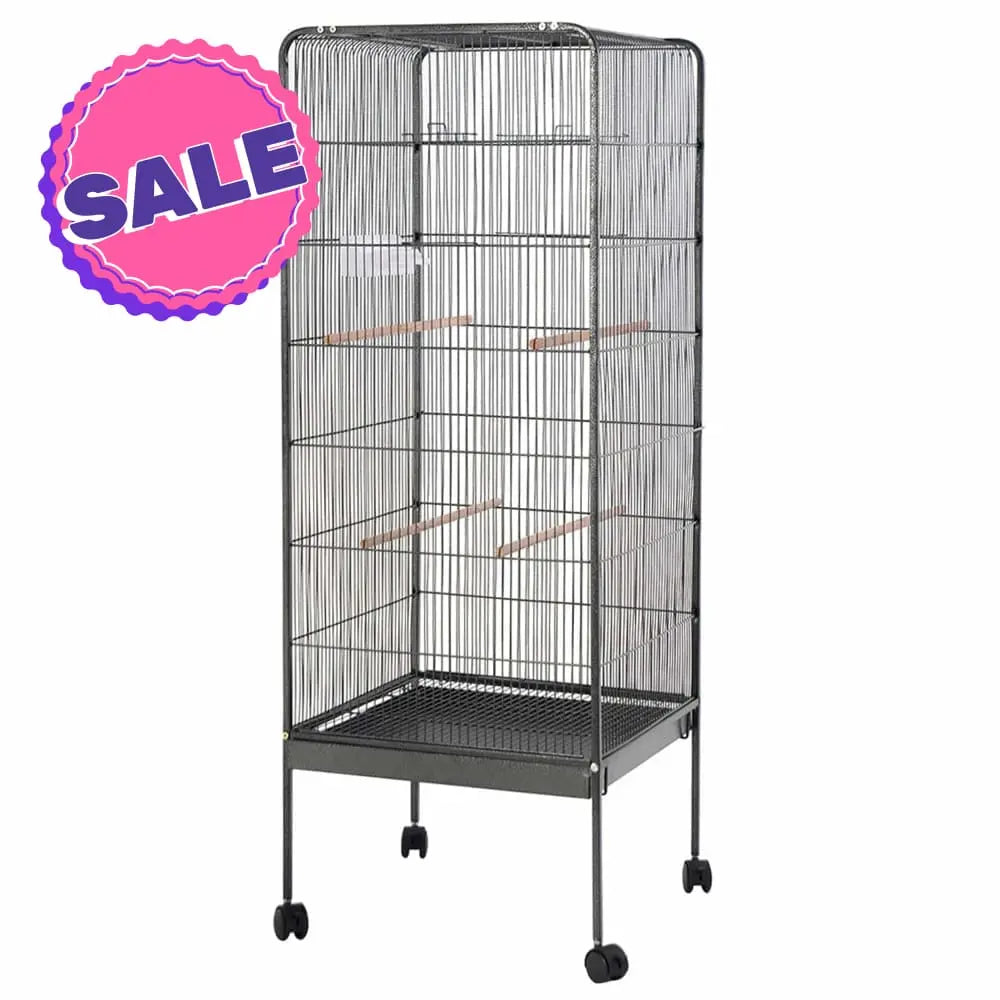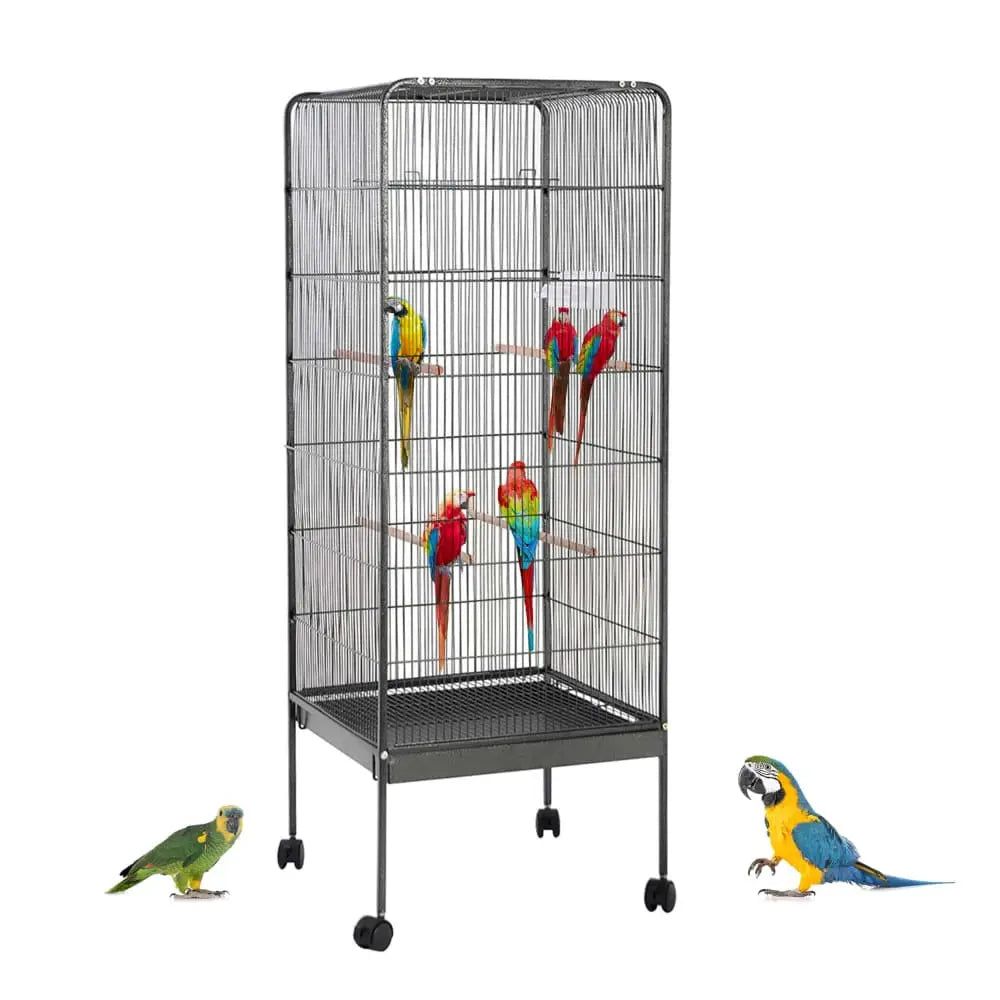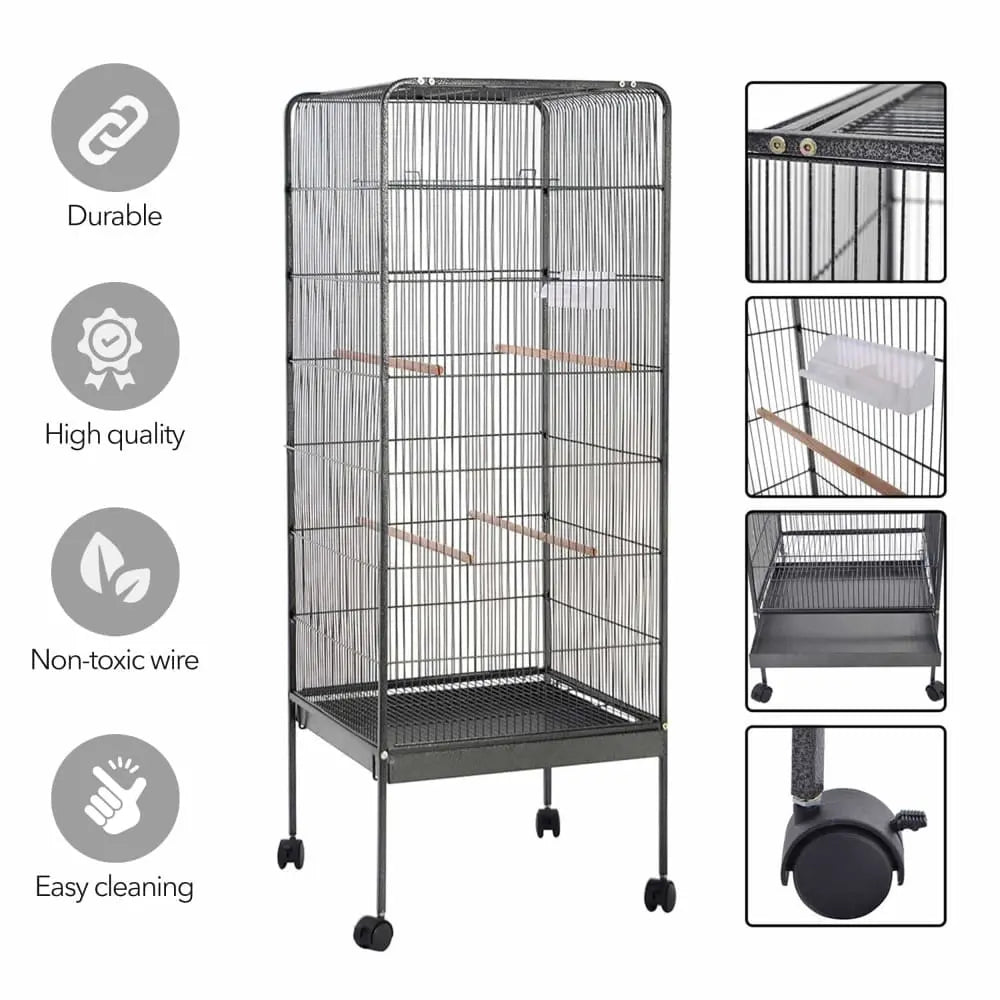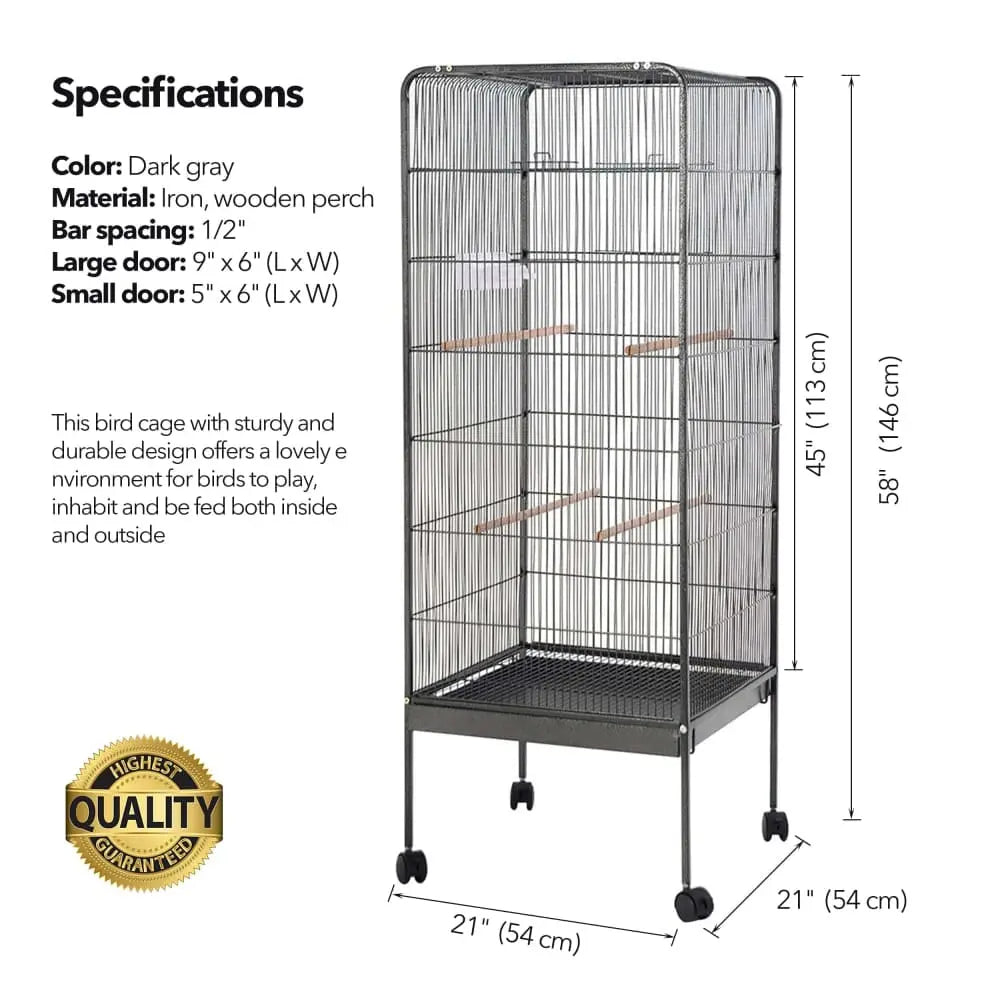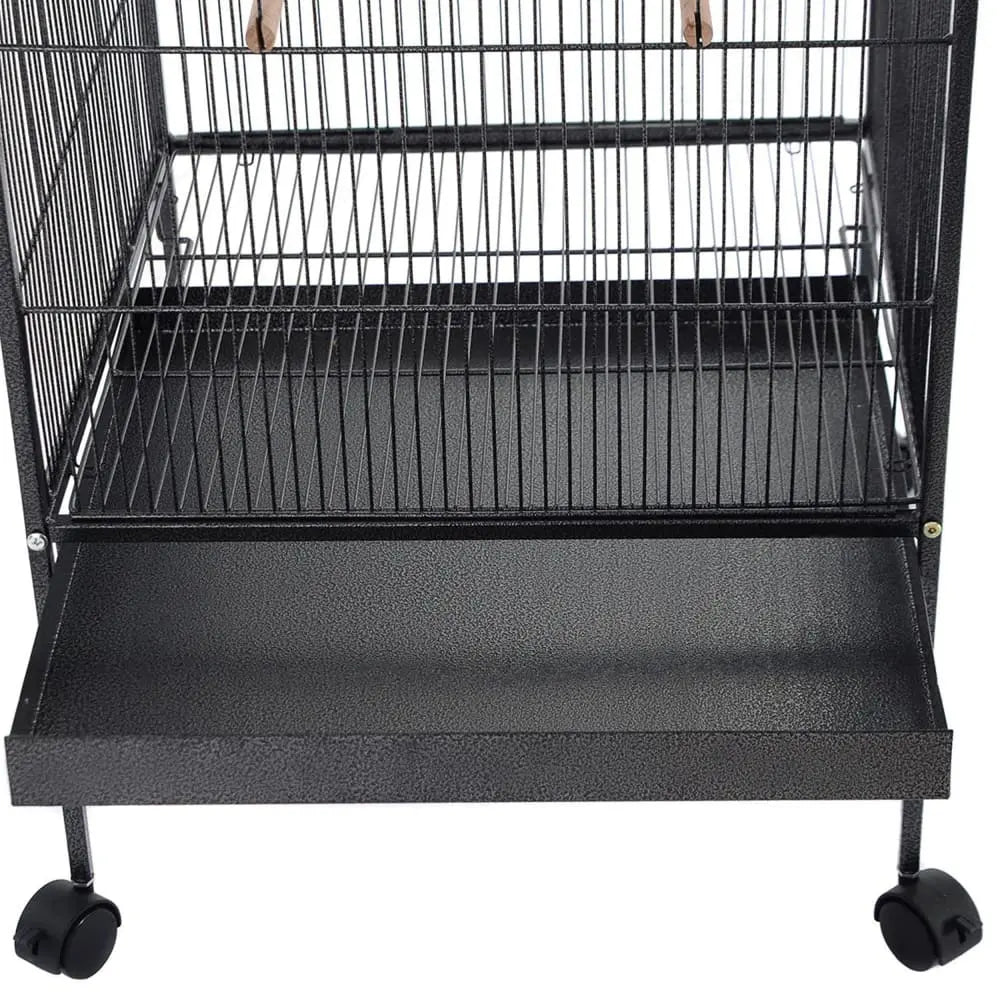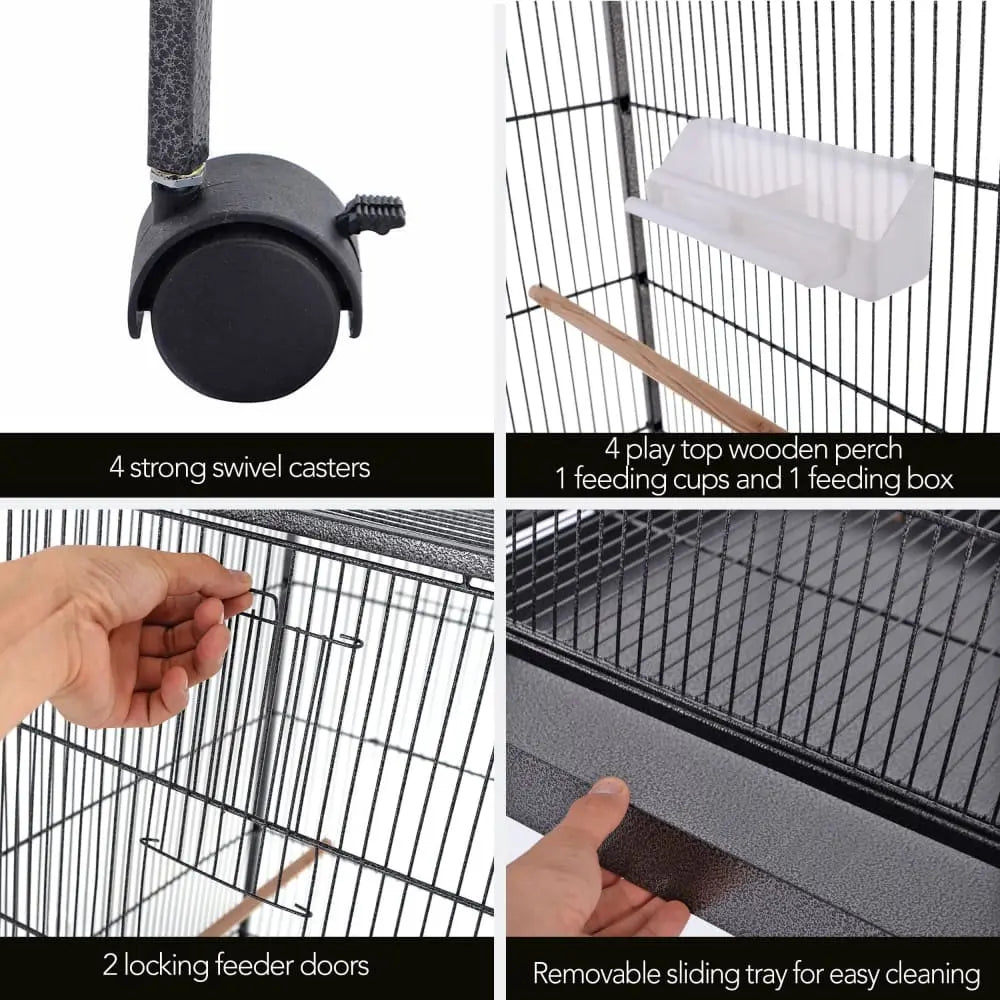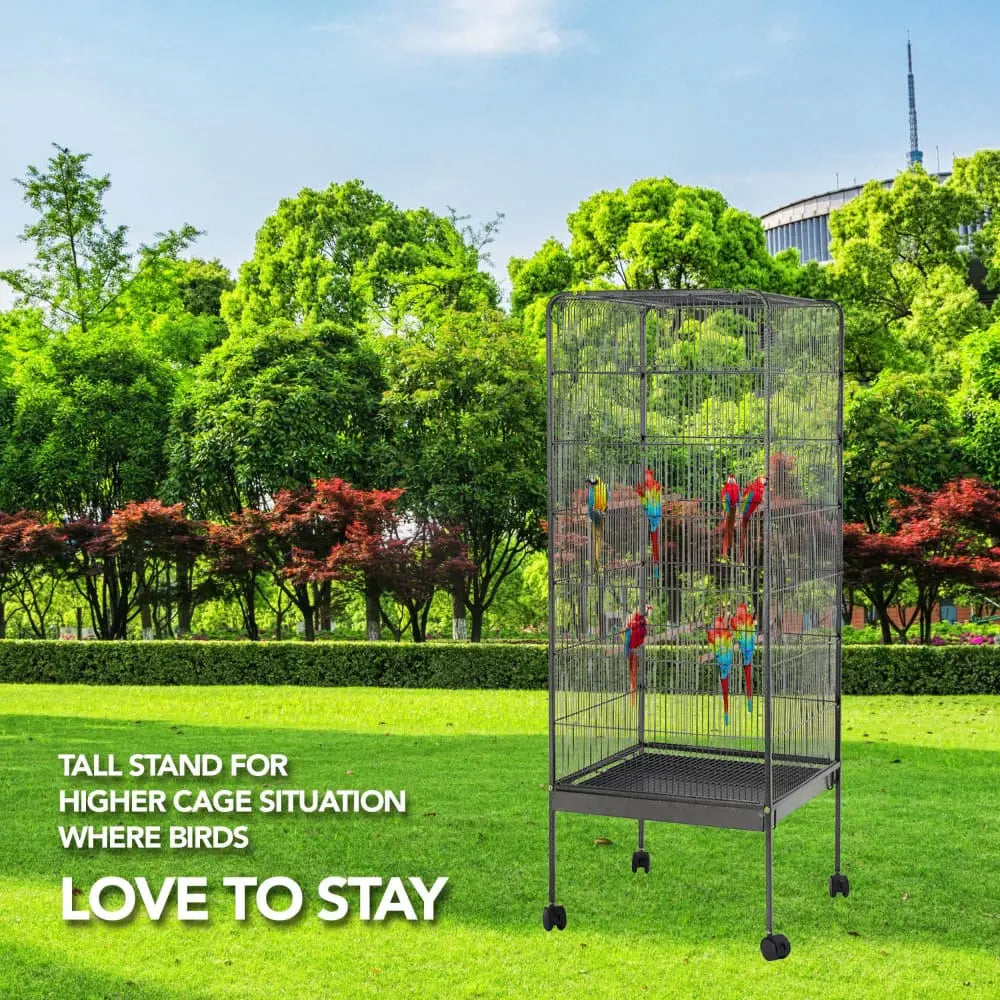 Talis 58" Large Bird Cage with Rolling Stand