This & That Snack Station Premium Covington Sweet Potato Dehydrated Dog Treats
Sku:

TTHI10418S

Vendor: This & That
Introducing the ultimate delight for our furry friends - This & That Snack Station Premium Covington Sweet Potato Dehydrated Dog Treats! Specially crafted with love and care for pets with food allergies or sensitive stomachs, these treats are the perfect solution to keep their tummies happy and healthy.

We understand the importance of providing our four-legged companions with high-quality nutrition. That's why we have carefully selected only three simple ingredients to create these extraordinary treats. Say goodbye to mysterious additives and confusing ingredients lists - our Covington Sweet Potato Dehydrated Dog Treats are made with love, transparency, and a whole lot of tail-wagging flavor!

But it doesn't stop there. These treats are not only delicious but loaded with a wonderful array of essential nutrients. Packed with beta-carotene, vitamin C, and vitamin A, they contribute to a strong immune system, giving your pup the vitality he deserves. The inclusion of potassium, phosphorus, and iron further supports overall bodily functions, ensuring a healthy and happy friend for years to come.

Sure, these treats are nutritious, but we know that's not enough. That's why we've also added niacin, thiamin, riboflavin, and fiber to the mix. Niacin and thiamin help promote a healthy nervous system and assist in energy production, so your furry companion can keep up with his mischievous adventures. Riboflavin plays a crucial role in maintaining healthy skin and eyes, making your pup the envy of the neighborhood. And let's not forget about fiber! It aids in digestive health, ensuring smooth sailing throughout the day.

Not only will your pal be indulging in the taste of real sweet potatoes, but he'll also be getting some serious dental hygiene benefits. The chewy texture of these treats helps exercise your pup's jaws, keeping them strong and healthy. As he chomps down, the treats gently scrape away plaque and tartar buildup, leaving behind a sparkling smile. Your pup will be entertained, satisfied, and brimming with confidence!

Whether your four-legged friend deserves a special reward or needs a nutritious treat, This & That Snack Station Premium Covington Sweet Potato Dehydrated Dog Treats are the paws-itively perfect choice. With their mouthwatering flavor, exceptional nutrition profile, and dental health benefits, these treats will become an irresistible staple in your pup's daily routine.

Spoil your furry companion with the love and care they deserve. Try This & That Snack Station Premium Covington Sweet Potato Dehydrated Dog Treats today and witness the joy and excitement that comes with treating your pet to nothing but the best!

100% Natural – free of any hard to digest additives or bi-products.
Packed with essential, health-boosting nutrients.
As nature intended! Easy to digest and assimilate into your pets' system.
Perfect for dogs and cats.
Sweet Potato is a chewy, teeth cleaning, high fibre, high nutrient treat that is ideal for dogs with severe food allergies or a bad tummy. Rich in; beta-Carotene, Vitamin A, Potassium, Phosphorus, Iron, Niacin, Thiamin, and Riboflavin
Comes in three delicious flavours: Original, Apple Oatmeal, and Blueberry Parsley
Our flavoured sweet potato are coated in a fruit juice concentrate to provide an intense, and nutritious experience for dogs.
View full details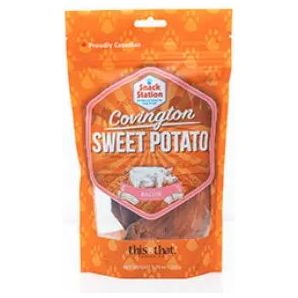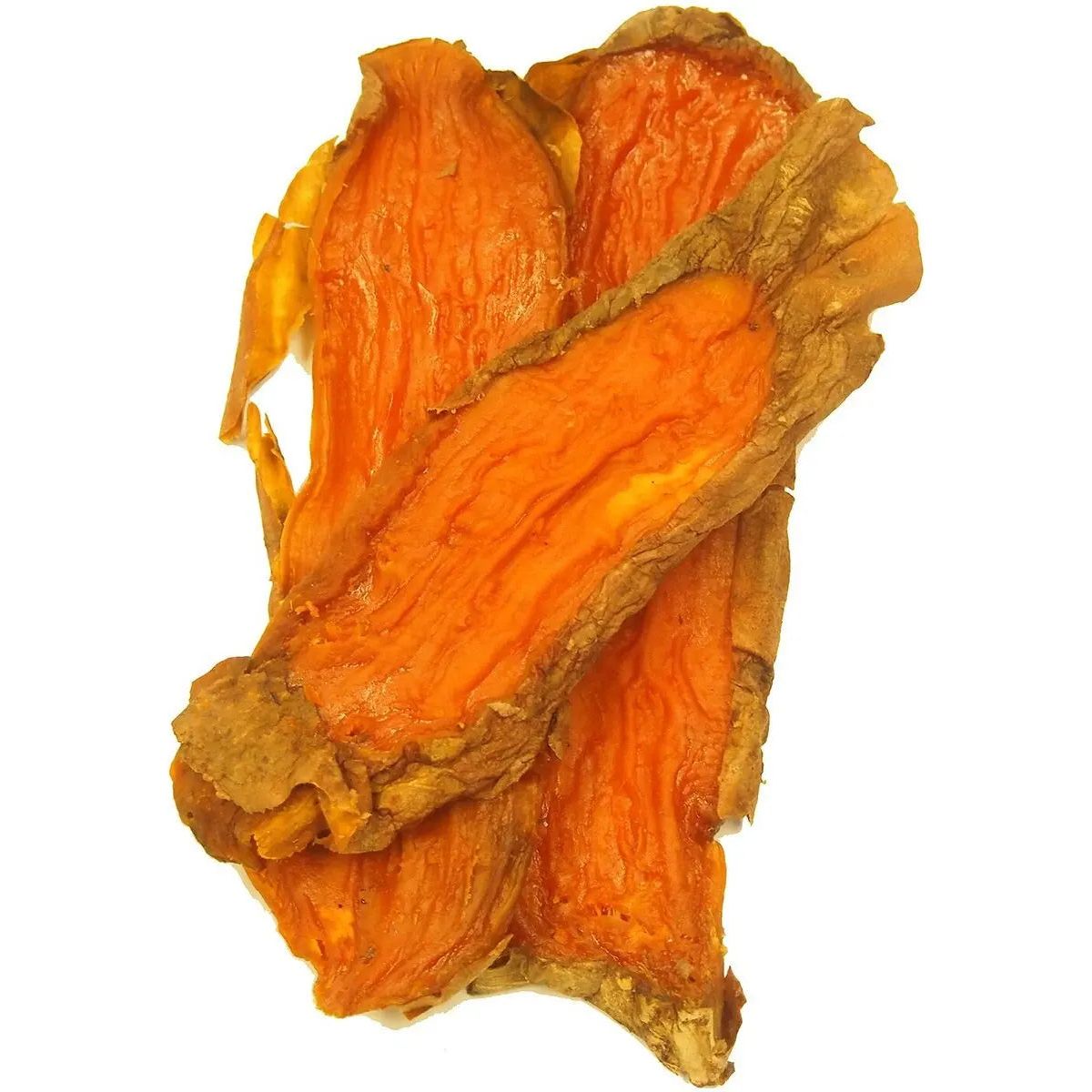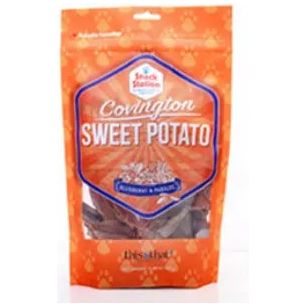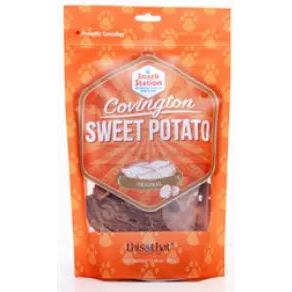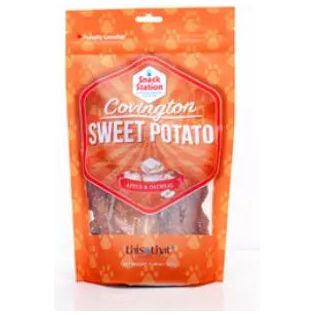 This & That Snack Station Premium Covington Sweet Potato Dehydrated Dog Treats