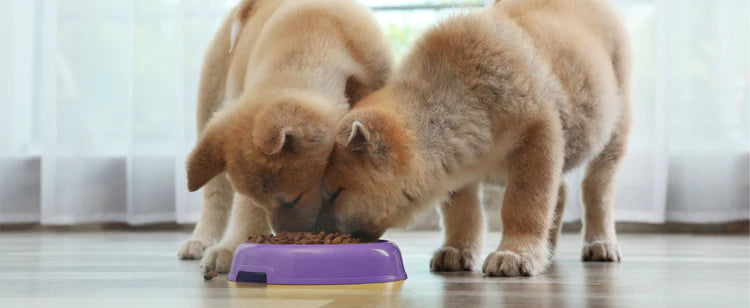 Featured

Best selling

Alphabetically, A-Z

Alphabetically, Z-A

Price, low to high

Price, high to low

Date, old to new

Date, new to old
Are you tired of seeing your beloved furry friend lose interest in their meals? Look no further! Talis-us presents our selection of scrumptious dry dog food that will have your pup drooling with excitement at every mealtime!

We understand that food is not just a necessity for our pets, but a source of joy and pleasure as well. That's why we have curated a diverse range of dog food options to satisfy even the most discerning canine palates. Whether your furry companion prefers dry or wet dog food, or even dog food toppers to add an extra dash of flavor, we have it all!

Our collection features only the best brands in the industry, ensuring that your four-legged friend receives the finest quality nutrition. From AvoDerm, CANIDAE, Lucy Pet Products, Natural Balance Pet Foods, Pinnacle Pets, Pro Pac, SPORTMIX, Ultimates, Wholesomes, Addiction Pet Foods, Evanger's Dog Food, Lifetime Dog Food, Lotus Dog Food, Nature's logic, Open Farm Dog Food we pride ourselves on offering a wide assortment of dog entrees and meal enhancers that are sure to please. Each product is carefully crafted to combine mouthwatering flavors with essential nutrients, giving your pup a wholesome and balanced diet.

No matter the dietary needs of your pet, we have you covered. Our selection includes grain-free options for those with sensitive tummies, as well as limited ingredient recipes for dogs with specific dietary restrictions. Whether your furry friend is in their puppy phase, adult years, or in their golden senior stage, our dog food caters to dogs of all life stages. Rest assured that by choosing Talis-us, you are providing the best for your best friend.
Our Dry Dog Food is the perfect choice for giving your pup the nutrition they need! Our dry dog food comes in a range of textures and flavors, as well as kibble sizes, meaning that you can give your pup a balanced, delicious, and nutritious meal.

Our Puppy Dry Dog Food is specially formulated for the young growing pup, helping them build the strong muscles and bones they need to keep them healthy and active. And for our senior dog friends, we have Senior Dry Dog Food that is designed to meet the unique needs of older pups, giving them the antioxidants they need to stay healthy.

Don't settle for mediocre meals for your furry companion. Treat them to the very best with our high-quality dry dog food. Watch as their eyes light up with anticipation and their tails wag with sheer delight at the sight and smell of their meal. Providing nutritious and delicious meals will not only keep your pet healthy and vibrant but will also strengthen the bond between the two of you.

So, why wait? Treat your beloved furry friend to the best dry dog food on the market, and watch their health and happiness soar to new heights. Join our growing community of satisfied customers and experience the Talis-us online pet store difference today. Your loyal companion deserves nothing less.