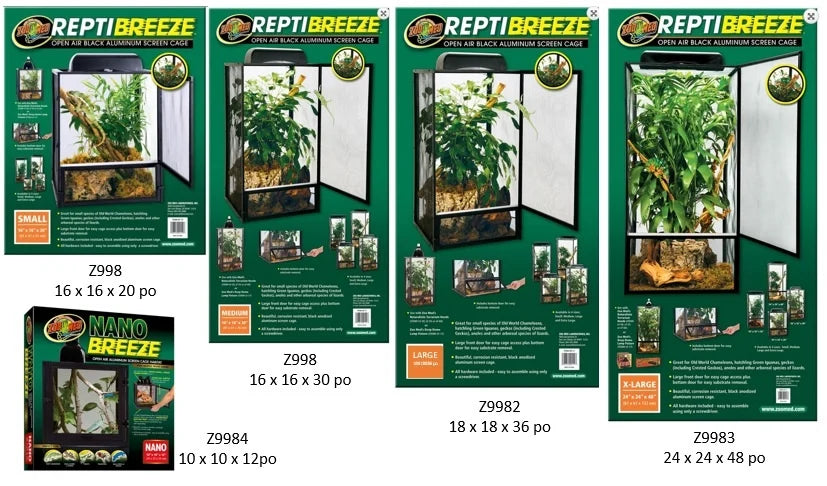 Featured

Best selling

Alphabetically, A-Z

Alphabetically, Z-A

Price, low to high

Price, high to low

Date, old to new

Date, new to old
Welcome reptile lovers everywhere: get a Screen Reptile Cage and provide the best environment for your beloved pet! We can offer you a wide selection of open air screen reptile cages from industry-leading brands like Zoo Med, Zilla, and Exo-Terra.
These Screen Cages are equipped with mesh tops that let in just the right amount of light and heat for your reptile while still providing a secure environment. They are also designed with mesh side panels to increase the ventilation, allowing you to craft your very own temperature gradient for the enclosure. Need the cage to be outdoors? No problem – these cages are made specifically to be used outdoors, so your chameleon can bask in the glorious sunlight of nature! 

These cages are the perfect mix of style and practicality; they look as good as they function! Zoo Med's Reptibreeze Open Air Reptile Cage is an excellent choice for your larger reptiles. Its attractive design with a natural look and feel will keep your pets happy and their home fresh.

DIY? We've got you covered! For the creative crafty type, we have DIY Screen Reptile Cages available so you can build your own. All the necessary components to build the perfect cage for your pet are included in the kit. Whether you're a beginner or an expert, these cages are sure to please!

If you're looking for a tall reptile cage, you'll want to check out the Exo-Terra Screen Terrarium X-Tall Reptiles Cages. It comes with adjustable air vents along the top, letting in just the right amount of air for your pet to feel comfortable. Not to mention, it looks great in any room!

Finally, if you want a large screen reptile cage, look no further than the Zilla Fresh Air Screen Habitat. It encompasses all the features of the other screen cages—sturdy mesh, easy assembly, adjustable height—plus it also has plenty of room for your pet to play and explore.

So no matter what type of reptile you have, get a Screen Reptile Cage for your pet today and give them the perfect home they deserve!