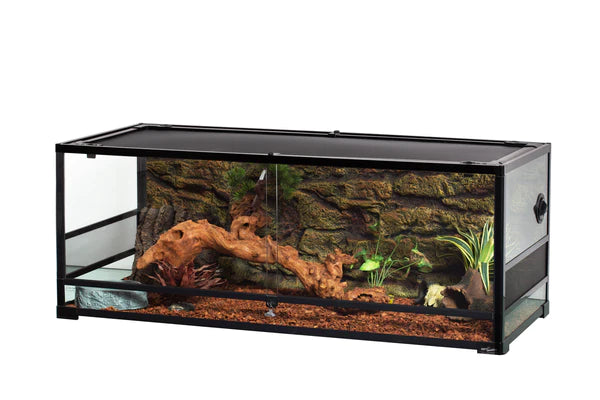 Featured

Best selling

Alphabetically, A-Z

Alphabetically, Z-A

Price, low to high

Price, high to low

Date, old to new

Date, new to old
Are you looking for the perfect reptile enclosure for your pet? Well, you've come to the right place! Our reptile enclosures are designed with your pet's needs in mind. We offer aquarium tanks, glass enclosures, longer and taller terrariums and much more!

Our aquarium tanks are ideal for snakes, amphibians, and turtles. They are made with the highest quality materials, so you don't have to worry about your pet's safety. And with a wide range of shapes and sizes, you can customize your reptile's enclosure to fit their individual needs.

Our glass enclosures are a popular option as well. They are perfect for viewing your pet and come in a variety of sizes and shapes. However, they don't hold heat well, so it is important to consider your pet's needs when opting for a glass enclosure.

We also offer longer and taller terrariums to accommodate land-dwelling or climbing reptiles. Our reptile terrariums provide plenty of space and ventilation for your pet, so you can rest assured that they will be safe and secure.
Look no further, because here at Lee's Aquarium & Pet Products, our HerpHaven Carrier for Reptiles, biOrb AIR30 LED Terrarium, Zilla QuickBuild Terrarium, and Zoo Med Tortoise Play Pen are sure to meet all of your reptile enclosure needs!

Offering premium quality, these enclosures provide your pet with a comfortable and safe home to rest, play, and enjoy. Our HerpHaven Carrier for Reptiles is made with a PVC-Free composite, making it more lightweight, durable, and leak-resistant. Keep your pet protected during transport with side ventilation, mesh panels, and secure clips. The biOrb AIR30 LED Terrarium will make a great instant home for your pet. It comes with an LED light and timer, as well as an integrated filtration system, making sure the air quality in your pet's enclosure is safe and clean.

For the ultimate convenience, you can put together a customized home for your pet with the Zilla QuickBuild Terrarium. These pieces are made from sturdy glass, providing your pet with space to explore in a secure environment. And for outdoors adventures, the Zoo Med Tortoise Play Pen provides a safe place for your pet to roam and explore. Setting it up is a snap, with no tools required for assembly

No matter which reptile enclosure you choose, you can rest assured that your pet will have the perfect home. So, what are you waiting for? Give your pet the environment they need with our high-quality reptile enclosures today!