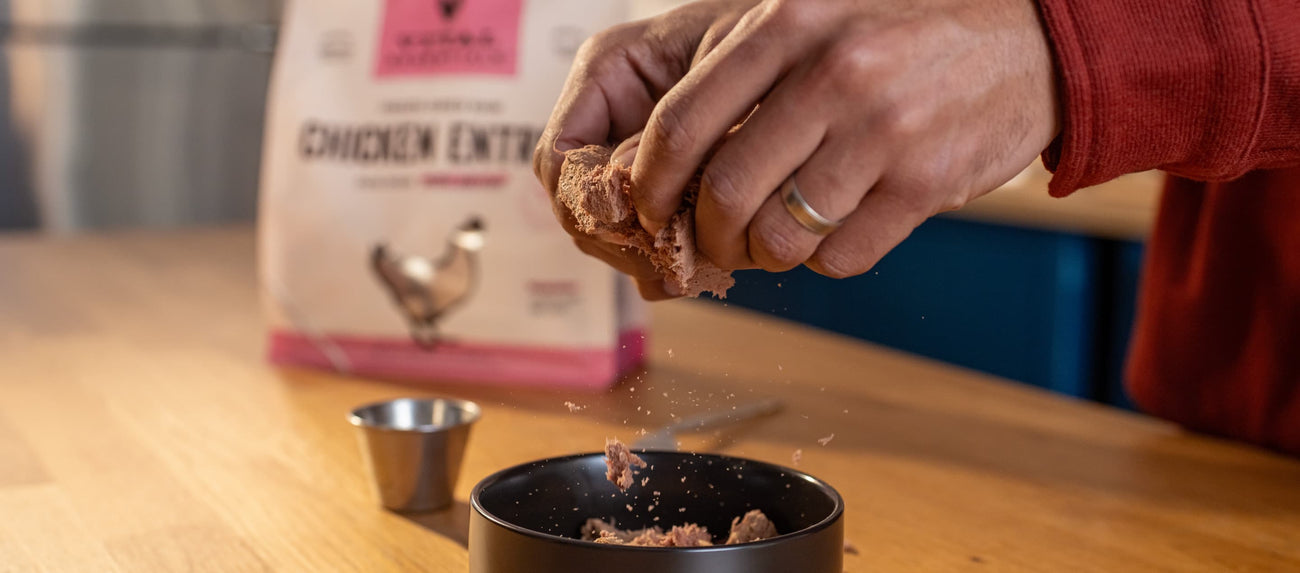 Featured

Best selling

Alphabetically, A-Z

Alphabetically, Z-A

Price, low to high

Price, high to low

Date, old to new

Date, new to old
Introducing Food Toppers - the sensational solution to elevate your pet's dining experience! Are you ready to embark on a culinary journey that will make your furry friend's taste buds dance with delight? Then prepare to be whisked away by a gastronomic adventure unlike any other!

Picture this: your beloved pet, eagerly awaiting their mealtime, eyes gleaming with anticipation. It's time to step up their dining game and provide them with the gourmet experience they truly deserve. That's where Food Toppers come into play – a treasure trove of flavors, textures, and mouth-watering aromas, specially crafted to transform every mealtime into a majestic feast fit for royalty.

Our sublime selection of Food Toppers will have your pet's palate doing cartwheels. With an array of options available, you can choose from freeze-dried, dry, moist, and broths to satiate your four-legged companion's discerning taste buds. These offerings will take your beloved pet's dining experience from mundane to extraordinary – in just one sprinkle, drop, or splash!

Let's talk about our enchanting freeze-dried toppers. Each luscious morsel is carefully freeze-dried to lock in the maximum amount of flavor and character. Whether it's succulent chicken, savory beef, or delectable seafood, these toppers will transport your pet's taste buds to culinary nirvana.

If dry is your furry friend's fancy, our tantalizing dry toppers are an absolute sensation. Packed with a medley of flavors, these crunchy delights will add a burst of excitement to every bite. From chewy turkey to irresistible lamb, our dry toppers will have your pet wagging their tail in pure delight.

For those who prefer a touch of decadence, our moist toppers are an indulgence beyond compare. Imagine tender shreds of succulent salmon, mingling with luscious gravy, creating a symphony of flavors that will have your pet begging for more. Be prepared for an outpouring of love and gratitude from your furry friend as they devour these tantalizing morsels.

And finally, we have our heavenly broths. These liquid wonders are the ultimate elixirs to enrich your pet's mealtime experience. Imagine slowly simmered bone broths, infused with wholesome nutrients and bursting with natural flavors. Whether it's chicken, beef, or vegetable, these broths will transform any ordinary meal into a culinary masterpiece, leaving your pet licking their chops and yearning for seconds.

Not only will Food Toppers make your pet's taste buds sing with joy, but they also provide vital nutrients and support overall well-being. We believe in only using the highest quality ingredients, sourced with utmost care and consideration. Each topper is filled with premium proteins, essential vitamins, and minerals to ensure your pet thrives in every aspect of their health.

So why wait any longer? Treat your cherished companion to a dining experience they won't soon forget. Unleash their inner foodie and let Food Toppers whisk them away on a tantalizing adventure of gourmet goodness. Pamper your pet with the finest flavors, the most delectable textures, and the utmost quality. Because when it comes to mealtime, nothing but the absolute best will do. Welcome to a world of culinary excellence with Food Toppers – where every bite is an experience worth savoring.
Allow Talis-us online pet store to be your partner in taking your dog's nutrition to the next level. Shop with us and you will never get disappointed. We promise only the best for your beloved furry family member. Sign up for our exclusive offers and newsletters and make sure to take advantage of what may be the best thing ever for your pup!  Shop Talis-us today!