Lugarti Professional Terrarium Disinfectant - 8 oz
Sku:

TLUG1792S

Vendor: Lugarti's
Terrarium Disinfectant

Lugarti's Professional Terrarium Disinfectant is a fast-acting, broad spectrum, super concentrate biocide that is highly effective against a wide range of bacteria (Salmonella, Escherichia coli, Staphylococcus, Streptococcus, Listeria, Enterococcus, Clostridium, Pseudomonas, Helicobacter, etc.). It is also effective against many fungi and spores, as well as a wide range of viruses (e.g. Herpes, H1N1 Influenza, HIV, etc.).

DIRECTIONS: For external use only. Remove all animals and pre-clean any soiled areas before disinfecting. Spray the disinfectant, saturating the surface, and allow it to sit for two minutes, then wipe away.

DILUTION: 1 ounce of solution per gallon of water.

ACTIVE INGREDIENT: 2% Chlorhexidine Gluconate.

OTHER INGREDIENTS: Purified Water, Ethoxylated Alcohol, FD&C Blue #1, Fragrance, Citric Acid.

CAUTION: Keep out of reach of children. Avoid contact with eyes and mucous membranes.
View full details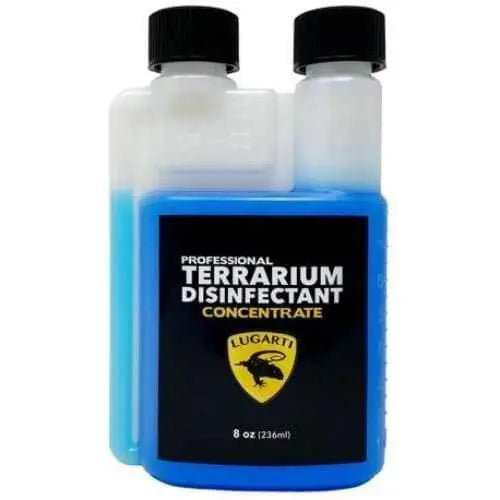 Lugarti Professional Terrarium Disinfectant - 8 oz