The Real Meat Company Air-Dried Turkey Venison with Mussels Dog Food 2lb
Sku:

TREA10740S

Vendor: Real Meat®
Introducing The Real Meat Company Air-Dried Turkey Venison with Mussels Dog Food, where wholesome nutrition meets tail-wagging flavor! We understand that your furry friend deserves nothing but the best, which is why we have carefully crafted this delicious, nutritious, and oh-so-satisfying blend just for them.

Made with only the finest ingredients, our Real Meat Air-Dried Free-Range New Zealand Venison and USA Turkey Dog Food is a testament to our commitment to quality. We source our venison from free-range farms in New Zealand, ensuring that your dog receives the highest quality protein. Our USA turkey is raised in a humane and sustainable manner, ensuring that every bite is not only delicious but also guilt-free.

But we didn't stop there. We wanted to give your pup that extra boost of goodness, so we added freeze-dried green-lipped mussels and organic coconut oil to the mix. These powerhouse ingredients are packed with Omega 3's, which are essential for your dog's overall health and vitality. Not only do they promote a shiny coat, but they also support joint health, keeping your furry friend agile and on the go.

We believe that feeding your pet should be easy and convenient, which is why we have air-dried our recipe. This unique process gently dehydrates the ingredients, preserving their natural flavors, nutrients, and aroma. It's like serving your pup a gourmet meal every day!

Our Air-Dried Turkey Venison with Mussels Dog Food is not just another meal; it's a transformative experience for your four-legged companion. Watch as your dog's eyes light up with joy, their tail wagging in delight, as they savor every bite. Your pup will be begging for more, and you'll be happy to oblige knowing that you're providing them with a meal that nourishes their body and soul.

Who is this product for? Well, it's for dog owners like you – individuals who are uncompromising when it comes to their pet's well-being. Whether you have a playful puppy or a wise senior, our dog food is suitable for dogs of all ages and breeds. Plus, it's perfect for sensitive stomachs and picky eaters, as our recipe is made without grain, corn, soy, or artificial additives.

So, what are you waiting for? Treat your furry friend to a taste adventure with The Real Meat Company Air-Dried Turkey Venison with Mussels Dog Food. Your dog will thank you with every wag of their tail and every cuddle shared. Give them the nutrition and love they deserve – because they are family.
View full details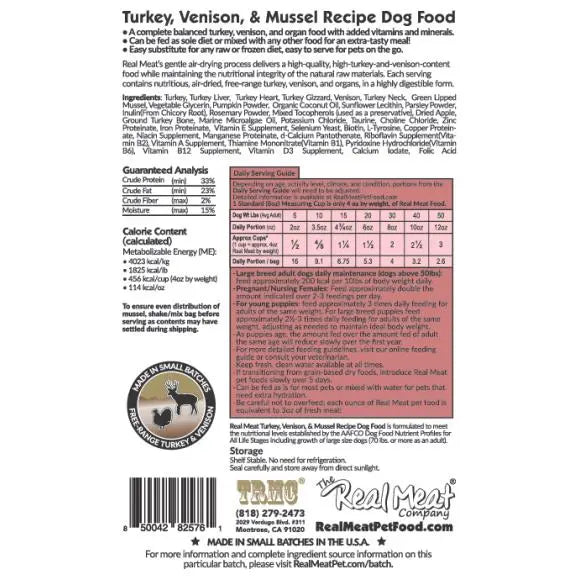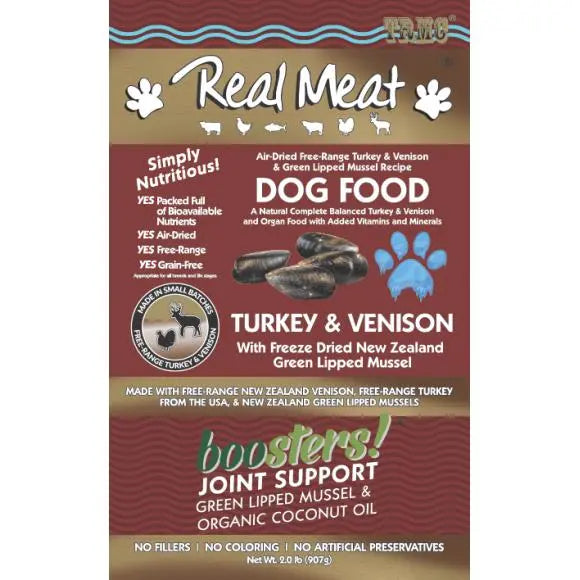 The Real Meat Company Air-Dried Turkey Venison with Mussels Dog Food 2lb