Vivarium Electronics 80 Watt Radiant Heat Panel
Sku:

TVIV2328S

Vendor: Vivarium Electronics
Heat Panels

These Radiant Heat Panels are easy to install (only two screws), won't crack or fade, and cannot burn your animals.

Can Not burn your animal-even if they touch it!
Made from high impact glass reinforced Noryl
Detachable cord for easy installation
Attractive, sealed housing for easy cleaning and disinfecting
4 wattage sizes available
Ultra easy mounting-Stainless Steel screws included
Low profile-under 2" thick
Thermal fuse protected
6 foot power cord
Made in USA
12 1/2" x 22 1/2" x 1.75" (overall dimensions)
Radiant Heat Panels (or RHPs) are designed to be used with a thermostat or rheostat to maintain the proper temperature for your animal. For best results a proportional thermostat is recommended.
RHPs emit infrared heat and is similar to natural sunlight in the way it penetrates muscle tissue.
The surface the RHP will not burn you right away. The manufacturer has tested it, and you can leave your hand on it for 10 seconds without getting burned. If your animal does come into contact with the RHP, it will have plenty of time to move before your animal is injured.
Installation is easy!

Using a Philips screwdriver to the top of your enclosure (inside your screen cover) using the included stainless steel screws.
Install your thermostat probe under the heat panel.
Heat panels are shipped without the plug installed so you can run the power cord through a small hole in the enclosure.
Clip the plug on the wire and you're all set.

There may be a slight odor when from the RHP at first. This is called outgassing. The smell is not from the plastic itself, but from the injection molding process it goes through. This will usually go away with exposure to air, but it might be necessary to 'burn in" the panel for 6-24 hours.
These RHPs use a self resetting thermal fuse. If the heat panel reaches a temperature outside of safe operating temperatures, it will shut itself down. The heating element and lens are fire retardant, but there are steps you should take to use them properly.

Make sure the lens is at least 6" from the enclosure bottom.
Don't set the panel face down on any surface while it's plugged in.
Doing either of these could damage the panel and void the warranty. The fuse is not meant to be used as a thermostat, only to cut power in extreme circumstances.
View full details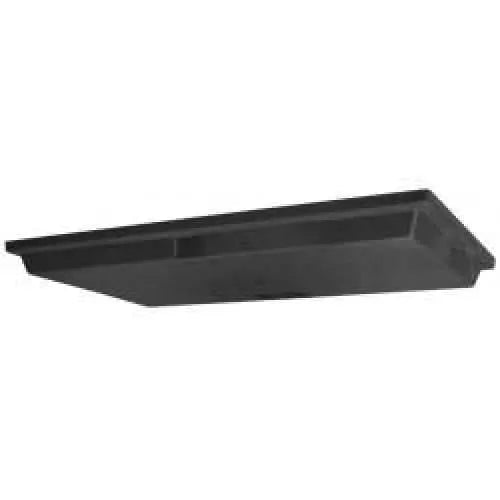 Vivarium Electronics 80 Watt Radiant Heat Panel