Premium Cypress Mulch Reptile Bedding
Sku:

TLUG8429S

Vendor: Lugarti
Cypress Mulch Reptile

PREMIUM CYPRESS MULCH REPTILE BEDDING
Lugarti's Premium Cypress Mulch Reptile Bedding is 100% pure Bald Cypress (Taxodium distichum), not blended with any other types of wood. It is sustainably harvested from renewable sources in Louisiana, Alabama, and Florida. It is then triple milled to produce the safest, cleanest, and highest quality cypress bedding for reptiles available.
Cypress mulch's superior ability to retain moisture makes it a top choice for tropical species that require moderate to high levels of humidity. It works great as a substrate on its own, but can also be mixed with Lugarti's Natural Reptile Bedding to create a super soil with bioactive properties.

Features:
100% PURE CYPRESS
RETAINS MOISTURE
RESISTS MOLD
MITE-FREE
CHEMICAL-FREE
NO DUST
NO DYES
NO OILS

Perfect For:
Ball Pythons
Red-tailed Boas
Various Tropical Species

Instructions For Use:
Fill the enclosure with an appropriate amount of bedding for the particular species you're housing and spread evenly. For most species, a depth of 2" - 3" (5-8 cm) will be sufficient. For burrowing species, or species that require higher humidity, a minimum depth of 4" - 5" (10-13 cm) works best for allowing burrowing activities and holding moisture. Spot clean daily and completely replace when necessary (at least every two months is best). It's recommended to feed your reptile in a separate enclosure to avoid accidental ingestion of the substrate.
View full details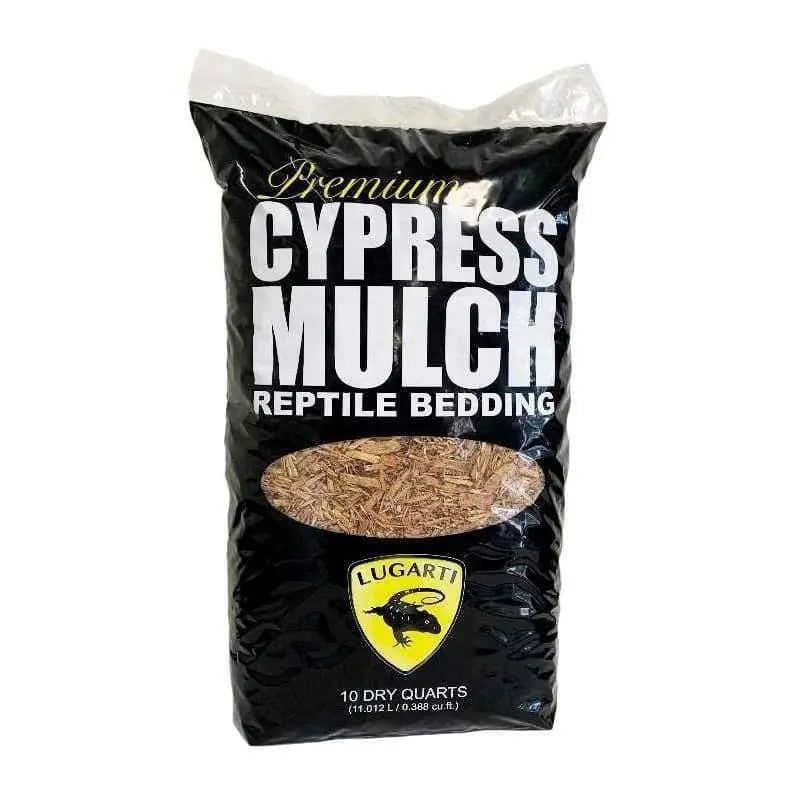 Premium Cypress Mulch Reptile Bedding