Repashy Savory Stew Meal Replacement Gel Amphibians & Reptiles Food
Sku:

TREP2275S

Vendor: Repashy
Reptiles Food

Meal Replacement Gel for Meat Loving Omnivorous Species of Reptiles and Amphibians. Great for Turtles, Skinks, Tegus, Bearded Dragons and others.

INGREDIENTS: Whole Krill Meal, Alfalfa Leaf Meal, Whole Squid Meal, Stabilized Rice Bran, Whole Sardine Meal, Dried Brewers Yeast, Spirulina Algae, Chlorella Algae, Seaweed Flour, Dried Kelp, Konjac, Carob Bean Gum, Calcium Carbonate, Dicalcium Phosphate, Taurine, Potassium Citrate, Calcium Propionate, Schizochytrium Algae, Phaffia Rhodozyma Yeast, Paprika Extract, Calendula Flower Powder, Marigold Flower Extract, Rose Hips Powder, Turmeric Root Powder, Malic Acid, Sodium Chloride, Canthaxanthin, Potassium Sorbate, Magnesium Gluconate, Lecithin, Rosemary Extract and Mixed Tocopherols (as preservatives), Vitamins (Vitamin A Supplement, Vitamin D Supplement, Choline Chloride, Ascorbic Acid Phosphate, Vitamin E Supplement, Niacin, Beta Carotene, Pantothenic Acid, Riboflavin, Pyridoxine Hydrochloride, Thiamine Mononitrate, Menadione Sodium Bisulfite Complex, Folic Acid, Biotin, Vitamin B-12 Supplement).

Guaranteed Analysis: Crude Protein min. 40%, Crude Fat min. 6%, Crude Fat max. 8%, Crude Fiber max. 8%, Moisture max. 8%, Ash max. 9%, Calcium min. 1.5%, Calcium max. 2%, Phosphorus min. 0.75%.

DIRECTIONS: To prepare one cup of product, add ¼ cup of powder into ¾ cup of cold water and stir until blended. Microwave until it starts to boil (typically 2-3 minutes), remove and stir. Alternatively, bring water to a boil on stove or in microwave, remove from heat, and stir in powder. Immediately pour into a storage container, mold, or over suitable coarse surface and let sit at room temp until firm. The finished gel can be cut into cubes, shredded, or used as a whole slab. Whatever is not used immediately should be treated as fresh food. It can be stored sealed in refrigerator for up to two weeks, and in freezer for up to six months. To adjust firmness of gel, use more or less water as desired.
View full details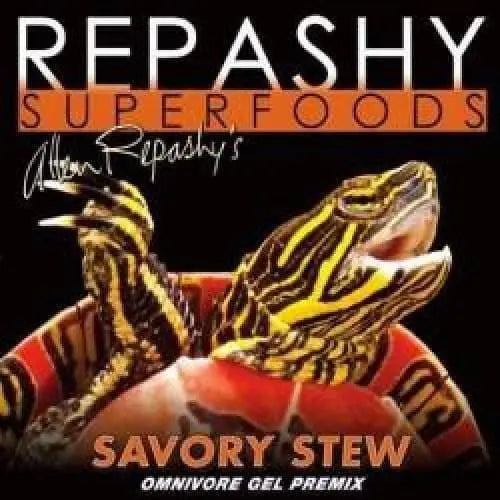 Repashy Savory Stew Meal Replacement Gel Amphibians & Reptiles Food