The Real Meat Company Air-Dried Lamb with Salmon Dog Food 2lb
Sku:

TREA10738S

Vendor: Real Meat®
Introducing the ultimate feast for your furry friends - The Real Meat Company Air-Dried Lamb with Salmon Dog Food. Made with real New Zealand lamb, freeze-dried wild-caught salmon, and a touch of organic coconut oil, this delectable blend is a true culinary masterpiece that will leave your pup begging for more!

With its high content of Omega 3's, this premium dog food ensures that your four-legged friend receives the essential fatty acids they need to thrive. From boosting their immune system to supporting a healthy heart and brain, these Omega 3's are a game-changer for your pup's well-being.

But that's not all - we've taken the extra step to infuse this delectable recipe with the power of coconut and salmon oil. Prepare to witness a transformation in your pup's skin and coat like never before! Say goodbye to dry, itchy skin and hello to a luxurious, lustrous fur coat that will turn heads at the dog park.

The secret lies in the organic coconut oil. This natural wonder is packed with medium-chain fatty acids that aid in digestion, promote a superb metabolism, and even provide a natural energy boost. Not only will your pup feel incredible, but they'll have the energy to play fetch all day long!

Meanwhile, the inclusion of freeze-dried wild-caught salmon elevates this dog food to a whole new level. Bursting with mouthwatering flavor and essential nutrients, the salmon adds a mouth-watering taste while delivering a healthy dose of protein and Omega 3 fatty acids.

We know that your pup deserves nothing but the best, and that's why we carefully select each ingredient for its exceptional quality. The Real Meat Company is committed to sourcing only the finest New Zealand lamb, ensuring that your dog's premium meal is packed with unrivaled flavor and nutrients.

Not only is our Air-Dried Lamb with Salmon Dog Food crafted from the highest quality ingredients, but it's also air-dried to perfection. This process gently preserves all the nutrients and enzymes, making it a healthier alternative to traditional kibble. Plus, its unique texture adds a satisfying crunch to each and every bite, delivering a delightful dining experience for your furry friend.

So, whether your pup has been a loyal companion for years or you're welcoming a new addition to your family, give them the gift of The Real Meat Company Air-Dried Lamb with Salmon Dog Food. It's the perfect balance of nutrition and taste, made with love to keep your fur baby happy and healthy inside and out.

Grab a bag today and watch your pup's tail wag with delight. Trust us, they'll thank you with a sloppy, slobbery kiss!
View full details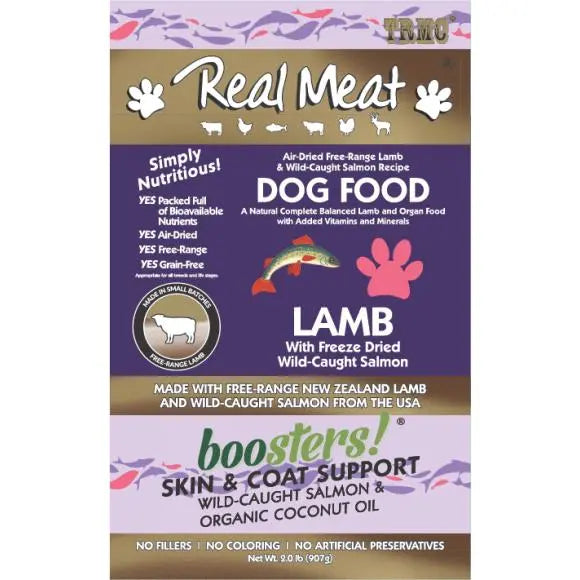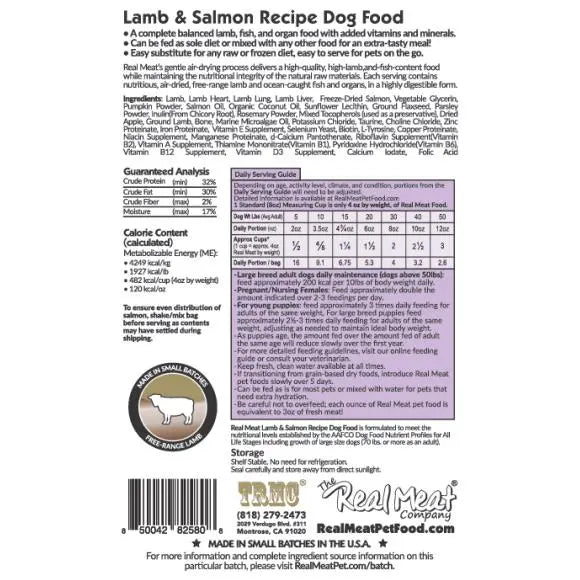 The Real Meat Company Air-Dried Lamb with Salmon Dog Food 2lb