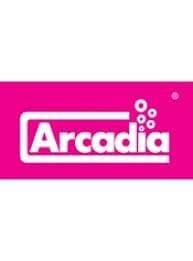 Featured

Best selling

Alphabetically, A-Z

Alphabetically, Z-A

Price, low to high

Price, high to low

Date, old to new

Date, new to old
Arcadia Reptile & Bird
Welcome to Arcadia Reptile, the trusted name for providing reptiles with the best lighting and habitat products on the market! Our products are designed to provide perfect conditions to keep your reptile healthy and happy. Whether you're looking for a Basking Bulb, Mini UVB Kit, Lamp Guard Pro or our full range of lighting for reptiles – we have it all.
Our Basking Bulb is designed to reduce stress in your reptile by using purple light that won't disrupt their natural sleeping/waking cycle. Our Arcadia Lamp produces UVA/UVB light necessary for healthy bones and skin while our Lamp Guard Pro protects the lamp and gives extra ventilation. In addition, our Mini UVB kit provides everything you need to start setting up a healthy habitat for your creature without compromising on quality.
For an even bigger impact, arcadia offers our full-spectrum Electric Lighting System which includes both UVA & UVB output – as well as providing natural day/night cycles which encourages natural behavior! Finally, feel secure in the knowledge that wherever you buy our products from an approved vendor such as a pet store or online retailer.
Don't compromise on quality when it comes to keeping your reptile safe - choose Arcadia Reptile and guarantee them the very best environment possible - every time! Arcadia is the best choice when it comes to reptile lighting, heating, and nutrition. They offer a wide range of products to suit all needs and budgets, from low-cost options to higher quality items. With their specialized knowledge and expertise in this area, they are sure to have what you need. From the different lighting spectrums available such as UVA & UVB, to thermometers that help with the ideal temperatures for your pet's environment, Arcadia has it all. Their nutritional products are designed specifically for reptiles to give them extra vitamins and minerals they may be lacking in their diets and round out a balanced diet. Whether you're a beginner or advanced reptile keeper, Arcadia has something for everyone. Take some time today to explore what Arcadia has on offer for your pet reptile family!
The Arcadia Reptile 'DragonLamp' is a crisp, bold, full-spectrum and VERY bright High-Output T5 UV-B projection lamp for captive reptiles. The lamp represents an almost doubling of light (LUX) and has a CRI of over 95 which will allow you as the keeper to see your animal in all of its natural glory. DragonLamp really does represent the very best of lighting technology.
Arcadia reptile ProT5 is a highly adaptable lighting kit with high-quality internal electronics A safe and potent natural full spectrum vitamin d3 powder for all exotic pets. The perfect choice for providing UV-B rich light
In conclusion, choosing the best reptile basking and UV lamp for your pet can be difficult since there are many factors to consider such as the size of your enclosure, the type of reptile you have and the long term needs. As always, do your research as there are so many options available; from the small and affordable PureSun Mini to the powerful and efficient EarthPro lamps, all of them offering something unique when it comes to keeping your reptile healthy. The D3 Basking Lamp series from EZ-Reptiles provides a great basis for any environment with its wonderful range including EVO Lamp, Dragon Lamp, Desert Lamp, Forest Lamp and Natural Sunlight Lamp models. ProT5 lamps offer more light intensity options that are suited for more specialized enclosures such as for desert species requiring a larger amount of UVB exposure. ShadeDweller-Arboreal, ShadeDweller-Max and ProT5 ShadeDweller 7% UVB provide multiple wattage choices with its convenient retractable design giving control overload. If you just need a short term heating solution, you can explore different types such as Halogen Heat Lamps or Ceramic Heaters. Ultimately the choice of what is best for your pet depends on user preference and its living conditions at home.
Frequently Asked Questions
Animals like humans need basic & advanced care for survival & sustenance. Arcadia reptile & bird has functional technology that gives the reptiles & birds several benefits.
The Arcadia Reptile LED lights have built-in functionality that enables them to perform to expectations and standards. They are tested & applied for various adaptations in caring for wild creatures.
There is absolute reliability & trust in the arcadia reptile lights based on usage & continuous R&D that avails these hi-tech products.
Apart from the lights, there are other products that Arcadia Reptile offers that complement the sustenance of a balanced ecosystem.
As a sign of quality assurance & guarantee, all Arcadia Reptile products have quality assurance. These products are crafted with fine technology to perform at the highest levels.